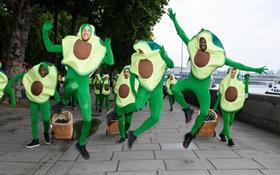 This June is World Avocado Month in the UK, a fact that has been celebrated today (25 June) by a mob of avocado enthusiasts who have been appearing at icnonic locations around London.
From the London Eye to Big Ben and Westminster Abbey, the 'AvoMob' spread across the capital's top tourist spots, engaging with people and handing out free avocados.
"We are thrilled to be celebrating the second World Avocado Month in the UK, with the world's most iconic fruit taking over London's most historic landmarks,' explained Xavier Equihua, CEO of the World Avocado Organization. 'We hope all our British fans enjoy celebrating the love for the king of superfoods with us, and take a ride on one of our avo-buses!"
The UK's love affair with avocados is well documented, with over 1,200 consumed every second, while #Avocado is one of the most popular hashtags on Instagram with over 10m posts.