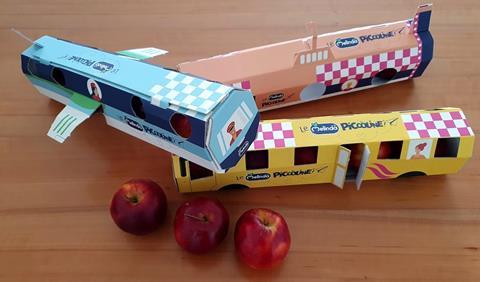 Italian apple marketer Melinda has launched Le Piccoline (The Little Ones), a series of brightly designed apple packs that can also transport children on an imaginary journey.
The new range features a number of different packaging designs made entirely from cardboard; each one can be reused and transformed into a toy vehicle. Inside are five small, Isaaq-branded snack apples.
"Le Piccoline Melinda are a healthy and child-friendly snack," says a spokesperson for the company. "The perfect way to motivate kids to eat fruit."
The concept is a direct response to parental demand for products that will encourage children to consume more fresh produce.
The packaging, meanwhile, is reusable and completely recyclable, and therefore represents an environmentally friendly choice, says Melinda.
"But also taste is important to hit the mark," it points out. While of course not just for children, Isaac is seen as ideal for smaller consumers, with its good crunchiness and balanced sugar-acid taste.
The variety, known technically as CIV323, also has a strong, bright-red colour, which apparently makes it more appealing to the real little ones.
As for the fun element associated with turning cardboard into playthings, Melinda's aim is to harness the kind of enthusiasm that so many parents witness for example at Christmas – when countless children seem to find more pleasure in playing with packaging than they do with the gifts themselves.
"One of the ways to make food palatable for children is to transform the meal into a pleasant moment by associating positive experiences with food," it explains.
"This also applies to fruit, which is not loved by many kids, but very important for a balanced diet."
This is where the idea of personalising the Littles Ones packaging comes from, it adds. "Providing the shape of an airplane, train, bus or submarine, with different colours and patterns that can all be collected, transforms a healthy break into a light, fun moment."
Melinda's idea was made a reality thanks to digital printing technology supplied by Lombardy-based company Ghelfi Ondulati.