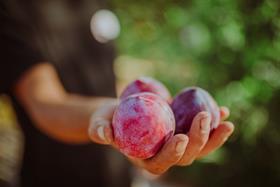 There is a Metis for everyone, according to product manager Camille Herouard, who sees the potential for Metis's innovative range of plums to re-energise the category.
Metis originated as a brand in California, thanks to the efforts of breeder Glen Bradford who developed a series of plum varieties with a natural hint of apricot.
The combination, according to Herouard, creates great diversity in terms of flavour and colour. "This is what Metis is all about," she tells Fruitnet.
The plums are grown by four companies in three European countries: Royal (Spain), Blue Whale (France) and Zani and Minguzzi (Italy).
'It's a good project that is growing,' says Heroard. 'We have 500ha planted in France, Italy and Spain. We still have younger orchards, so we expect 5,000 tonnes this season. We have been a bit impacted by the frost, so this is not the full potential. In 2025, we expect 12,000 tonnes.'
According to Shaz Rehman of UK-based trader and consultant Popular Produce, there are over 20 varieties under the Metis umbrella.
The key, he says, is to be able to supply consistently high quality, week in, week out, from June to November.
'There are four unique flavour profiles,' he says, 'which we've branded Oxy Solar, Sunset Sky, Safari Star and Dark Moon, and the beauty of them all is they have their own different personalities, look-wise and flavour-wise, which creates a fun, exciting and vibrant offer on the shelves of any supermarket. We also have a new addition this year, a yellow-skinned, yellow-flesh variety called Sunny Day.'
Metis plums are sold in 28 countries, the main markets being Germany, UK, France, Italy and Spain.
'China and the Middle East are also growing,' Herouard points out. 'This season, however, we will focus on supplying in Europe, but in years when we are in full production, we want to explore these overseas markets.'
Herouard believes Metis represents a good alternative to traditional plums, which are seen by some as a bit old and boring.
'Metis is a great way of attracting new consumers, particularly young consumers,' she says. 'Most people who buy plums are older, so this is a way of creating more demand for plums using these new varieties that are innovative, more colourful and easier to eat because they are firm as well as juicy and sweet. With Metis, there is the potential to create greater interest in the category.'