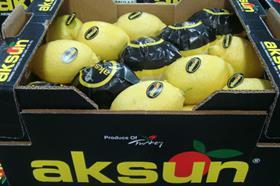 How has the lemon season begun in Turkey this year? What sort of prices are you seeing?
Akin Söyleyen: Since the supply of early Interdonato lemons is very low this year, the lemon season has not started with big volumes. That being said, we are still packing lemons at a steady capacity for our long-term customers who run season-long Turkish citrus programmes.
How are your main markets looking this season?
AS: On the European market, prices are not at their usual level, with the Spanish lemon season having an influence. As far as I know, the Spanish crop is good, but the sizes are smaller than usual, as they also suffered from insufficient rain. For ASEAN markets, there are still some South African lemons left over from the season. With that in mind and with Turkish prices at a high level, not everyone is eager to take the risk, especially during the current pandemic.
What sort of impact has the Covid-19 crisis had on citrus?
AS: The wet market is almost at a stop, with restaurants, bars and hotels shut down or running at limited capacity. This is not helping with demand for lemons. However, one positive is grapefruit, which has seen a surge in demand during the pandemic, with increasing numbers purchasing the fruit because of its high vitamin C content. Exports of grapefruit are authorised by the Turkish government from mid-October.
Do you anticipate any logistical issues as a result of Covid-19? Have you had any problems so far?
AS: We are located in a city with the busiest port in Turkey, especially for reefer equipment. This gives us an immense advantage to deliver fruit on time. Our packhouse is located just 10km outside the port. As of yet, we haven't come across any logistical barriers at the port as a result of Covid. That being said, the opposite is true for air cargo logistics.
With airliners in a bad state economically, their only hope of making money is air cargo logistics, for which prices have doubled or tripled depending on the destination. In past years, where there have been shortages of citrus, we have normally been able to airfreight to these destinations. This year it is impossible due to the prices for airfreight.
Are you seeing problems as a result of climate change? Was the weather responsible for the lower Interdonato volumes this season?
AS: In general, the weather has changed all around the world. You regularly see tornados in the US or heavy damage from rain in Spain. In Turkey, the situation is the same. With the current state of the global climate, we have to take the necessary precautions and just pray we will have enough sunshine, rain and heat for our fruits. The Interdonato crop has been affected by the high temperatures this year, causing prices to be higher than usual. We don't see that issue with Lamas lemons so they should be fine. Grapefruits have also been unaffected by weather, and the increase in consumption gives us hope for the rest of the season.