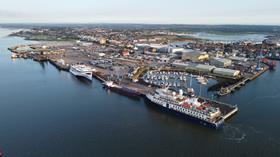 The first ship to sail the new 'Brexit-busting' route from Morocco is expected in the UK coastal town of Poole imminently,containing 100 freights of organic seasonal fruit and vegetables.
The direct weekly service, which is operated by United Seaways, is expected to help ease Brexit-related delays and disruptions to supply chains.
The route shortens journey times between the ports to less than three days, half the time it takes by road.
According to the Port of Poole, the route has been planned for over two years and will 'help bypass post-Brexit traffic congestion and import procedures', while significantly reducing emissions.
Captain Brian Murphy, marine and port director at Poole Harbour Commissioners, said: "The Port of Poole has been working closely with United Seaways to get this 'Brexit Buster' service up and running. The service will provide a greener and more time-efficient option for importers and exporters from both kingdoms and we look forward to receiving the first shipment from Tangier shortly."
United Seaways will provide full logistics services, such as 'road haulage, door-to-door services, customs clearance services and warehousing for exporters and importers'.
It will also switch from a Ro-Ro (roll-on, roll-off) service for unaccompanied cargo to a RoPax, for accompanied cargo.
Amine Laghidi has been named as the board member in charge of strategy, public affairs, maritime and foreign trade.He has reportedly worked in four continents in both the private and public sectors, holding leading positions in maritime, international logistics, finance, industry, infrastructure and energy.
Amine is a representative of the African and Moroccan business associations and president of ASMEX-Rabat, the Moroccan Exporters Association.