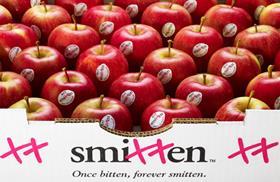 Smitten, a new variety of apple developed in New Zealand, launches exclusively at Morrisons today (1 May), marking the second consecutive season that the UK retailer has sold Smitten under a 100 per cent exclusive agreement.
The Smitten variety is a combination of New Zealand favourites Royal Gala and Braeburn, mixed with two popular English varieties Fiesta and Falstaff, with the apples available in selected stores throughout May and June.
New Zealand-based pipfruit commercialisation company Prevar first announced that Smitten would be the selected trademark name for its PremA17 apple variety in August 2010, with the company registering the name and logo in major global apple markets, along with the strap line 'Once bitten, forever Smitten'.
The variety is marketed by six New Zealand companies under the Seventeen Limited umbrella, a company formed specifically to commercialise the PremA17 variety comprising DM Palmer NZ, Enza, the Heartland Group, Johnny Appleseed Holdings, Mr Apple New Zealand and PickMee Fruit Company.
'The programme resulted in an apple with a bite sensation that we had been looking for, combined with full flavour, juiciness, and a sweetness rating of Brix >15,' said Brendon Osborn, general manager of Heartland Fruit NZ Ltd. 'We also discovered that the great texture is maintained over time, and its firmness makes the apple more resistant to bruising, providing longevity and making it the better choice for consumers and growers.'
According to New Zealand Trade and Enterprise, commercial quantities of the apple are only available from New Zealand, although they could become available to growers in the UK over the next few years.