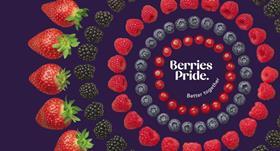 Nature's Pride is reorganising its berry business as it aims to become a leading supplier of soft fruit all year round to supermarket customers in northern Europe.
The Dutch fresh produce company, which is already Europe's largest importer of avocados, has renamed its soft fruit business Berries Pride and is relocating the division to a new premises in De Lier.
The changes, which come into effect on 1 July, are a sign of the growing importance of berries to the group's overall operation.
"Nature's pride predicts a strong future for the soft fruit category," it said in a statement. "Although we are proud of the share we have in this category together with our partners, we can also see even more potential."
It added: "The launch of Berries Pride will enable us to give this product group our full attention, thanks to a strong ad passionate team that has a wealth of knowledge and expertise."
The group said its approach to supplying berries would be based on sustainable, transparent and open partnerships with customers and producers, as well as efficient, streamlined product handling and distribution.