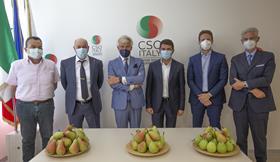 It's been a tough few years for the Italian pear business. Despite a reputation for turning out high-quality fruit, including a unique flagship variety in the form of Abate Fetel, the country's growers have had to contend with an almost biblical onslaught of infestations, disease, and adverse weather. Product quality, at times, has come under severe pressure.
With the formation of a new consortium called UNAPera, however, there is the potential for some kind of revival.
The group brings together 25 companies – including 13 producer organisations – and represents 70 per cent of the pears sold in Italy, as well as 55 per cent of its exports. Crucially, Opera and Origine Group, two entities that have attempted to bring more consolidation and integration to the business in the past, are both involved.
Each individual organisation will continue to sell its own fruit as before, but together they will adopt a common system of quality controls and standards. The aim is to improve quality, win back consumers, and restore profitability.
At the heart of the project is Emilia Romagna, a region on course to produce 35 per cent of Italy's pear crop within the next three years. In Ferrara on 29 July, UNAPera was unveiled during a workshop broadcast by CSO Italy, whose president Paolo Bruni has been closely involved in laying the foundations for the new consortium.
Earlier in July, Bruni met with the region's president Stefano Bonaccini and agriculture minister Alessio Mammi to discuss various threats faced by pear producers, including the much-publicised brown marmorated stink bug, a fungal disease called brown spot, and frosts. "But instead of talking only about these problems, we tried to plot a major path that will enhance the PGI pears from Emilia Romagna," Bruni recalls.
Adriano Aldrovani, president of the new consortium, says the chance to collaborate is a valuable one. 'We are 25 companies that have been promoting the pear product for years, but have now decided to do it together," he comments.
"It is a project of national importance with a strong link to the territory, but it is [also] an open project," he adds. "In fact we plan to involve other realities in the coming months. We want to guarantee the future of pear production in Emilia Romagna and neighbouring areas, by thinking of the entire supply chain, from production to marketing, via all related industries."
Roberto Della Casa, who will head up the UNAPera project, says better quality across the board is required. "Pear consumption fell by 24 per cent between 2016 and 2020, largely due to the inconsistency of fruit quality in the market. Pears are difficult to grow, and in recent years they have been hit by various challenges, but when the quality is not constant, consumers become disaffected."
According to Agroter's Fruit and Vegetable Monitor survey, 62 per cent of shoppers complain that pear quality varies too much. "But the good news is that 29 per cent of Italians say their favourite fruit is the pear," Della Casa adds. "To relaunch the pear as a product, we need to agree programmes with major retailers and wholesalers on the commercial and marketing front. Without a development plan, pears risk becoming a marginal product."
UNAPera's founding companies are: AFE, Unacoa, Apo Conerpo, Apofruit Italia, Bergonzoni, Alegra, Biop, Cico, Mazzoni, Cipof, Consorzio Frutteto, Ceor, EurOPFruit, Gobbi Dino, Granfrutta Zani, La Buona Frutta, Minguzzi, OP Costea, Coferasta, OP Kiwi Sole, Spreafico, Opera, Naturitalia, Origine Group, and Orogel.