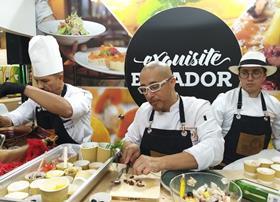 This month's Fruit Logsitica served as the backdrop for the recent launch the Exquisite Ecuador website, which showcases Ecuadorean cuisine using local products.
Renowned chef Carlos Gallardo was on hand to serve up gastronomic treats including his take on ceviche using typical Ecuadorean fruits, and a traditionally-produced blackberry, banana and honey ice cream.
"This gastronomic promotional tool seeks to boost national exports by positioning our products in well-known recipes that attract the interest of buyers, consumers and opinion leaders internationally," said Veronica Chávez, vice minister of trade promotion agency ProEcuador.
The website features Ecuador's biggest agri-exports including fruit, fish, cocoa and coffee, as well as contact details of the exporting companies allowing new commercial contacts to be made.
The launch of the website took place on the last day of Fruit Logistica, marking the culmination of a packed agenda which also saw the unveiling of the new 'Ecuador: Premium and Sustainable' fresh produce brand.
The premium brand is based on five key pillars which aim to eradicated rural poverty through the promotion of cooperativism, rural women's empowerment; youth entrepreneurship; a commitment to zero deforestation; and improving productivity, quality and traceability.