AI-powered shelf-life prediction technology helps growers, distributors and retailers make better decisions
Dutch start-up OneThird has come up with a new tool to cut food waste across the entire supply chain by using AI-powered technology to help predict the shelf-life of fresh produce.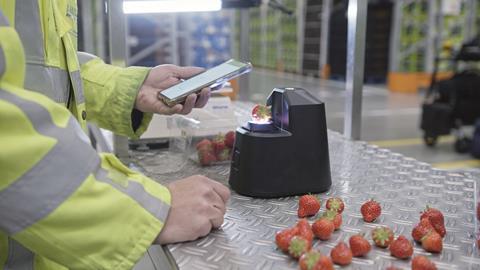 According to the United Nations, up to one third of the food brought to market annually is wasted at an estimated cost of US$1tn, and almost half of it – 40 per cent – is fresh produce.
OneThird's system combines AI in the form of proprietary algorithms with a near-infrared-based scanner — which makes it non-destructive and fast — to determine the shelf-life of produce. The data is tracked via the cloud-based OneThird dashboard that provides the user with real-time updates and insights.
Knowing the shelf-life of produce in real-time enables stakeholders across the food supply chain to make better decisions. OneThird says its technology is easy to use and works across multiple touchpoints across the entire fresh produce supply chain.
Growers receive real-time feedback on growing conditions, helping them to give objective quality guarantees to retailers, resulting in premium prices. Distributors gain insights they can use for dynamic routing to various retailers or to redirect to processing facilities or food banks.
Grocers, meanwhile, have real-time shelf-life information that allows them to dynamically price produce and only remove from shelves when needed. And consumers are able to buy the freshest produce possible and be aware of the remaining time to consume it.
OneThird's technology currently supports and predicts the shelf-life of avocados, strawberries, blueberries and tomatoes, and will extend to a total of ten types of produce, including grapes, bananas, mangoes and raspberries by late 2023.
"The astronomical volume of food that goes to waste each year is heart-breaking, particularly since so much is wasted in affluent countries," says Marco Snikkers, founde and CEO of OneThird.
"We've worked hard to create technology that helps to address this persistent, global challenge which directly impacts food scarcity. Making informed decisions along the supply chain plays a key role in tackling the loss of produce due to spoilage.
"We are proud to have built the first product that accurately and objectively predicts the shelf life and makes the logistics of fruit and vegetables smarter."
OneThird will be demonstrating the technology at next week's Fruit Logistica in Berlin.