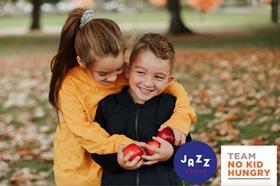 North American fresh produce group Oppy, alongside marketing partner and Jazz apple brand owner T&G Global, has teamed up with No Kid Hungry to help combat childhood hunger during the Coronavirus outbreak.
With the virus forcing schools nationwide to close, and millions of vulnerable children losing the school meals they depend upon, the Oppy and T&G Global are aiding the organisation – which is dedicated to feeding kids during school closures and all year long – in delivering these meals.
"The devastation this virus is causing is unreal, and we're all looking for ways to help,' said Roger Aguirre, category director for apples and pears at Oppy. 'As we're able to provide something essential — nutritious food — it's our responsibility.
'When the Oppy team came across No Kid Hungry, which is delivering 1.7-plus million meals daily to needy kids, it was a cause that struck especially close to our hearts."
Helping alleviate hunger – particularly among children and with nutrition in mind – is critical to T&G and Oppy, the groups said, and aligning with organisations who share their values, particularly where they operate and in critically impacted geographies, is essential.
A start-up contribution in the name of Jazz apples, to a unique No Kid Hungry fundraising page, has jumpstarted a donation campaign.
"We're in complete admiration of No Kid Hungry's abilities to help address the hunger fight head on, working alongside public schools and food banks – so rapidly – during such a critical time," said Cecilia Flores Paez, head of marketing North America for T&G Global. "We also donated more than 12,000 Jazz to the Selah School District in Washington state, which delivers more than 3,200 daily meals to local students and are exploring similar regional opportunities."