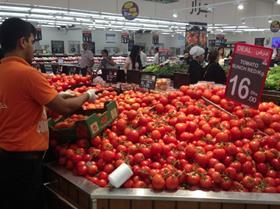 The Abu Dhabi Farmers' Service Centre, ADFSC, has announced its Agricultural Production Plan for the 2018/19 season, which begins in mid-August and continues until June 2019.
The production plan features 68 varieties of fresh vegetables and six fruit crops, including 18 varieties of organic crops to encourage farmers to make the switch to organics.
Just three crops presently account for around 70 per cent of the total expected production: cucumbers, expected to make up 38 per cent of production, round tomatoes with 26 per cent and peppers with 6 per cent.
Details of the plan were communicated during farmers' forums organised by ADFSC in Abu Dhabi, Al Dhafra and Al Ain, including the revenues that farmers can be expected to receive.
'This year's agricultural plan represents a significant shift in the work of the centre as it focuses on encouraging the shift towards organic farming and fruit cultivation,' said Nasser Mohammed Al Junaibi, acting CEO of the ADFSC.
Six varieties of fruit are included in the plan for the first time, with the aim of encouraging farmers to build up their experience of planting fruit trees on their farms.
The ADFSC will be in charge of marketing the crops, including figs, mangoes, oranges, guava, grapefruit and lemons. It will also market herb varieties, including mint, parsley and coriander to meet local demand.
According to Al Junaibi, the agricultural plan allows the ADFSC to help organise the activities of the farms in order to produce for longer periods, helping to achieve sustainability in the agricultural sector, support food security and strengthen the position of local products on the market.
The plan equally aims to achieve a balance between open farms and greenhouses to avoid competition between them, instead encouraging all growers to market produce according to consumer needs.
Al Junabi called on Abu Dhabi farmers to get in touch with the centre for registration and briefing of the requirements of the plan, which it stressed was based on studies conducted on market trends and on the supply and demand of agricultural products that can be grown in local soils.