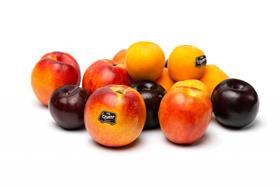 Italian fresh produce company Orsero Group has agreed a new partnership with Orogel Fresco to develop a new range of home-grown stonefruit under its F.lli Orsero brand.
The range, which is described as "extra premium quality", includes nectarines, peaches, apricots and plums – all of them produced in the regions of Emilia-Romagna, Basilicata and Puglia.
According to Orsero, the fruit will be picked at the right stage of ripeness and packed in the field.
"The partnership we've created with Orogel Fresco is a strategic one and represents a further step towards the objective that Gruppo Orsero has set itself, to bring value to the Italian agribusiness supply chain," commented Alessandro Canalella, the group's chief commercial officer.
"Collaborating with this large production business, which includes around 700 Italian growers, will enhance our F.lli Orsero branded offer with a product line of selected varieties and types that have high organoleptic and commodity values," he added.
The new products will be sold via traditional and modern retail channels across Italy by Orsero subsidiary Fruttital, which operates an extensive distribution network throughout the country.