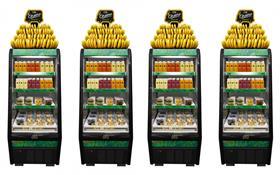 Following a successful campaign in 2020, Italian company Orsero has renewed its partnership with Autogrill.
The company will continue to supply F.lli Orsero-branded fruit and juice products to the catering giant, which operates a large network of stores in motorway service stations, airport terminals, train stations and ports across Italy.
The products themselves are designed to be ideal for consumption on the go. They include: La Frutta Pronta, a range of 100 per cent, high-quality Italian fruit packed in convenient portions; and Fruit to Drink, completely natural juices that are chilled using HPP technology and completely free of additional colours, flavourings, water, or sugar.
"After last year's great success, we are very proud we can renew our collaboration with Autogrill for 2021," comments Mattia Beda, marketing and communication director at Orsero Group
"The synergy between Orsero Group and Autogrill, a leader in the travel retail channel, is strategically important for us, especially when it comes to developing product lines that are most suitable for consumption on the go."
According to Beda, the development of more convenience products in recent years has opened new commercial doors. "Expanding these fruit formats allows us, in fact, to meet increasing consumer demand for genuine, high-quality products which, especially when consumed away from home, must also be easy and practical to enjoy.'
The marketer has paid particular attention to its product sourcing, only selecting high-quality ingredients that are in season.
These include sweet Italian strawberries in the spring, refreshing cubes of Italian melon and watermelon during the warmer months, and even a combination of tropical mango and papaya that can apparently satisfy even the most demanding of palates.
For Fruit to Drink, meanwhile, the company has created a brand new orange and strawberry mix, alongside orange, carrot and ginger, strawberry, apple and banana, and mango and passion fruit.
Both the Ready Fruit and Fruit to Drink ranges will be available in over 200 Autogrill stores, presented in dedicated spaces and refrigerators that display the iconic F.lli Orsero 'banana bunch' brand identity.
For Beda, the key is to entice the consumer, right from the first glance, so they choose them as "perfect travel companions: good, fresh and healthy!"