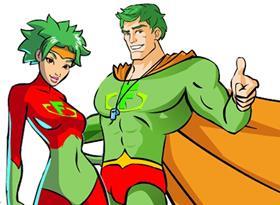 Healthy eating campaign Fruitness Enjoy it! has moved on to the winter phase of its promotional drive, focusing on pears and kiwifruit in particular – described as 'winter fruits par excellence'.
The campaign, which is backed by the EU, Italy and the Italian organisation CSO, is aimed at children and their parents in Denmark, Germany, Poland, Sweden and the UK.
Fruitness Enjoy It! looks to drive consumption and illustrate its healthy effects by using playful and amusing language and the images of campaign superhero icons Mr and Miss Fruitness.
For the pear and kiwifruit push, promotional events will take place directly in the fresh fruit area of retail locations, and will include the mounting of a display corner where information on the fruit will be distributed.
Meanwhile, fun educational gadgets will be offered to children, teaching them about the nutritional benefits of pears and kiwifruit in an enjoyable way.