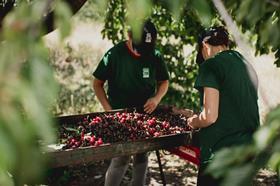 The health benefits and versatility of Picota cherries were highlighted at an event at London's Grosvenor House hotel on Thursday as part of the 2021 UK promotional campaign.
After hearing a series of presentations on the prospects for the season and longer-term outlook for the UK cherry market, attendees had the opportunity to sample a range of canapés, drinks and desserts made with the famous stalkless cherries produced in Spain's Jerte Valley.
The UK cherry market is worth an estimated £110m a year. The country is the biggest export market for Picota cherries, taking 30-40 per cent of the crop.
Peter Brazil from importer and marketer JO Sims, which sells around 2,500 tonnes of Picota a year, said the variety formed an integral part of its annual cherry programme, with retailers and consumers alike looking forward to the start of the campaign each year.
"As well as being the only stalkless variety, Picotas are smaller in size but big in flavour, making them unique within the cherry category," said Monica Tierno of Agrupación de Cooperativas Valle del Jerte, the leading supplier of Picota cherries and Europe's biggest cherry exporter.
David Mulcahy, culinary director at Sodexo, noted that since the start of the pandemic, chefs have turned to more versatile ingredients that can be used in a wide a range of dishes and across several meal occasions.
He said the sustainable way in which they are grown, as well as their great taste and visual attractiveness, were a big advantage when it came to marketing Picota cherries.
In recent years, Picotas have faced increased competition from the rise in UK domestic cherry production, making it all the more important to differentiate them through effective consumer and trade marketing.
Fred Searle, editor of the Fresh Produce Journal, gave an overview of this year's campaign, which includes retail promotions with Morrisons and Sainsbury's to increase awareness at point-of-sale, as well as collaborations with food influencers on social media.