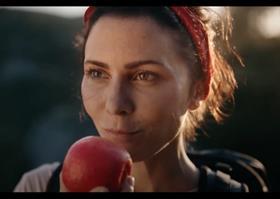 Pink Lady Europe has announced that it is rolling out a new 360° communication platform aimed at delivering consistency across every aspect of the Pink Lady brand.
The central pillar of this new line of communication, revealed Pink Lady Europe, is the brand signature, "What can Pink Lady do for you today?"
"Thisplaces the brand at the heart of people's lives, be they consumers or subsidiary stakeholders," the company stated. "This new claim reflects a brand that accompanies us, never letting us down in terms of taste, performance, ethical commitment or creativity."
The new communication strategy includes a TV spot produced by Gilles Verdaz, which aims to set an emotional tone for the brand as it portrays various people sharing "healthy moments of pleasure".
"Studies have revealed that emotions have a greater impact on consumers than content," said Verdaz. "This is why building an emotional link with consumers is a key focus for this new campaign. Showcasing everyday situations automatically draws on our emotions because it reminds us of moments that we have experienced ourselves. Today, most brands try to communicate through emotions, but many of them are simply opportunistic and do not have the same legitimacy as Pink Lady. Pink Lady is a natural product that we can all relate to that plays an intrinsic role in our lives."
The film focuses on "simple moments", said Verdaz, experienced alone or with family and friends. "Pink Lady apples add a moment of pleasure to our everyday routine," he explained, "and after all, day-to-day activities form the backbone of our lives."
The campaign also includes advertising in magazines and the press, featuring the same design and tone, and conveying the brand's commitments across six European countries, France, Italy, Denmark, Germany, the Netherlands and Belgium.
"It focuses on five major themes from our commitments charter: the search for optimal quality, the fight against plastic, zero waste, biodiversity preservation and local origin for producing countries," Pink Lady Europe revealed.
The new platform will apparently be used for each Pink Lady communication. "It will be rolled out across the digital ecosystem via the website and social media, for image trade marketing operations, events for meeting consumers, and also for communicating with internal stakeholders in the Pink Lady subsidiary," the group stated. "It will also be used for entrepreneurial women's projects led by women and supported by the Pink Lady Foundation."