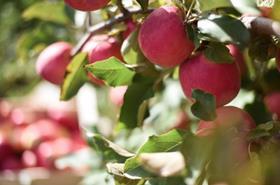 Pink Lady Europe has revealed that its Adopt a Tree campaign, which lets consumers adopt a Pink Lady tree, follow its growth and pick the apples in the autumn, has passed 4,000 trees, adopted in six countries across Europe.
This season, the campaign, which was launched three years ago, ran in six countries: France, Italy, Germany, Norway and, for the first time, Spain and Ireland.
'And we did not have to wait very long before seeing the results,' Pink Lady stated. 'More than 1m trays in the Adopt a Tree campaign colours were sold in stores (+20 per cent compared to last year).'
In Italy and France, all 2,000 trees were adopted in around three days, while over 920 tonnes of apples were sold in one week in Germany, an increase of 52 per cent compared with last year. Online, a total of 3,800 trees were adopted.
'The campaign also received good media coverage, in both the press and online, thanks to renowned sponsors who included, to name just a few, former Miss France Camille Cerf and chef Simone Zanoni in France, food writer Carlotta Perego and chef Pietro Leemann in Italy, and famous Catalan chef Christian Escribà in Spain,' Pink Lady stated.
Pink Lady's intention is to build on this success, with three major communication efforts planned for June, September and the end of October, when sponsors will be able to pick their own apples.
'The aim is to strengthen transparency and the relationship between consumers and producers,' the group said, 'which is even more essential during difficult periods.'
'It is extremely rewarding and we are very proud to be able to explain our work and answer their questions,' said Jean Nougaillac, a Pink Lady producer who has more than 400 sponsored apple trees in Lunel, France. 'Our consumers are genuinely interested in understanding more about where their favourite apple comes from, who produces it and how. This campaign creates a much-needed link between the public and producers.'
Cultivating a close relationship based on trust between consumers and producers is part of the Pink Lady commitments charter, alongside preserving the environment, developing the regions and supporting producers.