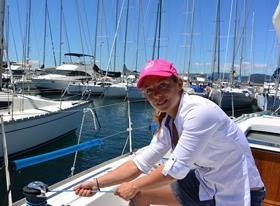 Pink Lady has announced details of its new European marketing campaign. It will include television and digital media promotions in Germany, Belgium, Denmark, the Netherlands, Norway and Ireland and a poster campaign in Sweden that will run between mid-June and mid-July.
At the same time, Pink Lady will be sponsoring key events throughout the summer months. For the first time, the label will support a crew of three women during the 40th edition of the French Sailing Tour de France.
"From 7-30 July, the Pink Lady Pays de l'Or Hérault team will sail sporting the brand's colours and our shared values of team spirit, surpassing oneself, and being at one with nature," Pink Lady said in a press release.
"At each of the race's nine stages, the Pink Lady stand will welcome hundreds of thousands of visitors to promote the brand and to offer tastings, games and goodies."
In Germany, the brand will have a stand at cultural and sustainable festivals in five cities: Munich, Düsseldorf, Berlin, Frankfurt and Hamburg.
"Creating significant traffic, this particular event is supported by specific trade and marketing tools and is expected to attract 120,000 visitors," Pink Lady said.
In Austria, the brand will once again participate in June's Donauinselfest festival which attracts 3m visitors.