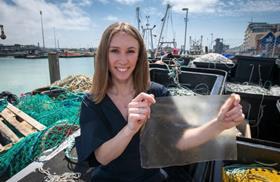 A graduate in product design was awarded the £30,000 international prize for developing a bioplastic made of organic fish waste as an alternative to plastic packaging in the food and drinks industry, according to the Guardian.
Lucy Hughes from the University of Sussex picked up the James Dyson award for her biodegradable and compostable material known as MarinaTex, having already taken top prize in the UK awards.
The product is translucent and strong, making it suitable for single-use packaging such as sandwich wrappers and bags, breaking down in home compost or food waste bins within four to six weeks.
The annual award scheme is run by the James Dyson Foundation, designer Sir James Dyson's charitable trust, and challenges young people to "design something that solves a problem".
Dyson commented: "Young engineers have the passion, awareness and intelligence to solve some of the world's biggest problems. Ultimately, we decided to pick the idea the world could least do without. MarinaTex elegantly solves two problems: the ubiquity of single-use plastic and fish waste."
"Plastic is an amazing material and as a result, we have become too reliant on it," added Hughes. "It makes no sense that we're using plastic for products that have a life cycle of less than a day. I'm excited to have the chance to undertake further research and development to explore all possible uses."