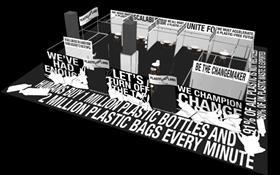 A Plastic Planet, the environmental campaign group behind the Plastic Free Aisle concept, is set to show off the world's first PlasticFreeLand in London this week, offering a vision of the kind of plastic-free world that is possible today.
Visitors will be able to enter PlasticFreeLand at the Packaging Innovations show in London on 11-12 September, where they can discover new plastic-free solutions using new biomaterials and innovations using paper and cardboard.
"The entire edifice of PlasticFreeLand is built out of Cygnus EcoBoard by Swanline Paper," the group revealed in a press release. "PlasticFreeLand brings together eight major exhibitors providing a tantalising look at what a plastic-free future would look like for shoppers across the UK and beyond. All the plastic-free solutions on show are ready to be used by consumers today."
Everyday products commonly packed in thick plastic are set to be presented in alternative fully compostable flexible packaging provided by TIPA, while Sirane will demonstrate how complex plastic laminates and flexibles can be replaced with nature-friendly materials.
Reel Brands is due to showcase its range of cardboard-based solutions for traditionally non-recyclable goods, including the REELtray, a water- and grease-resistant pop-up cardboard box.
Also present will be Control Union (CU), the international certification body, which will be collaborating on the further rollout of A Plastic Planet's Plastic Free Trust Mark for packaging and materials, which over 100 brands have already applied to carry on their products.
Sian Sutherland, co-founder of A Plastic Planet, commented: "We are very proud to welcome people to PlasticFreeLand - a bold vision that shows it is already possible to turn off the plastic tap. We wanted to create a truly visionary space championing some of the world's most pioneering material manufacturers. Stepping into PlasticFreeLand will feel like taking a time machine to the future. But the best bit is it is a future that we needn't wait a single second for."