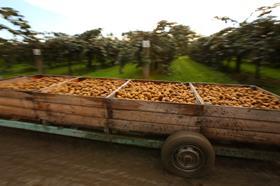 Primland has kicked off its Chilean kiwifruit campaign as the French season draws to a close. Its team of permanent and seasonal workers in Chile are currently packing around 170 containers of kiwifruit.
Primland Chile, now in its 22nd season, said it was entering the new campaign with many challenges ahead, among them the ongoing quest for quality.
With the help of the Chilean Kiwifruit Committee (of which it is a member), Primland Chile has monitored orchards and worked with producers to ensure they respect strict harvesting criteria in order to guarantee the quality of the Oscar kiwifruit produced in Chile.
"In this respect, the brix and dry matter levels indicate not only good flavour characteristics but also excellent keeping qualities," the company said.
"Moreover, compliance with Oscar specifications during packaging enables us to offer high-quality products consistently throughout the season."
This season, conditions were favourable and allowed Primland's partner growers to obtain good-sized fruit with an average weight of around 100g.
Primland also continues to develop its range with its organic kiwifruit offer and with the ongoing planting of Oscar Gold yellow-fleshed kiwifruit, which will be marketed in a few years.
The company said it now plans to not only market fruit at the beginning of the season but also large volumes in the second half of the season to meet the continuing demand for kiwifruit in destination markets.
In addition to Europe, the company is looking to harness the brand's reputation to develop new markets in Asia. Its presence in the Southern Hemisphere has also enabled it to increase sales in the South and North American continents.