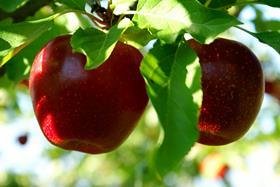 The US has announced the imposition of tariffs on steel and aluminum imports from the EU, Canada and Mexico, prompting fears of a protracted and damaging trade war.
Almost immediately after president Donald Trump's announcement, the Mexican government issued a statement announcing that it would impose equivalent measures on various US imports including apples, table grapes and cranberries.
The measures would remain in effect until the US government eliminated the import tariffs, the Ministry for the Economy said.
The latest trade data available from ITC suggests that, of the three products, the US apple export trade would stand to lose the most from a Mexican tariff hike.
Mexico is by far the largest importer of US apples, with sales worth US$276.5m last year, compared with US$174.3m in Canada and US$97.4m in India.
Mark Powers, president of the Yakima, Washington-based Northwest Horticultural Council, said the move was expected to cause substantial damage to the industry.
Mexico is the third major market to impose tariffs on Washington apples as a result of US trade policy on steel and aluminium this year.
Last week, India announced plans to put a 30 per cent retaliatory tariff on US apples – on top of the 50 per cent tariff that they are already subjected to, while in China US fruit imports have faced a 15 per cent hike in tariffs since 2 April.
Sales of US fresh apples to Mexico may have declined slightly in recent years, but last year they were 21 per cent up on the previous campaign.
Meanwhile, fresh cranberry exporters in the US have seen the value of their business in Mexico increase considerably over the past few years, albeit from a low starting point. According to ITC, Mexican import sales rose by 30 per cent to just under US$1.27m between 2013 and 2017.
As for table grapes, the value of US sales to Mexico fell by 2 per cent to US$97.2m during 2013-2017, although ITC noted a 26 per cent increase in 2017 compared with the previous campaign.
WTO case opened
The EU, meanwhile, has confirmed it is opening a case at the World Trade Organisation in response to the new US duties, with EU trade commissioner Cecilia Malmströmexpected to announce retaliatory 'proportionate' tariffs on US exports including cranberries 'in accordance with WTO rules'.
Federica Mogherini, the EU high representative on foreign policy, told journalists: 'The European Union will today proceed with the WTO dispute settlement case adding those additional duties on a number of imports from the United States. The European Union measures will be reasonable, proportionate and in full compliance with WTO rules and obligations."
The decision by the White House was dubbed "patently absurd" by the UK's international trade secretary, Liam Fox, who suggested the UK would be prepared for "tit-for-tat" moves. "We absolutely do not rule out counter measures," he asserted.
When the initial threat of tariffs was raised by the US back in March, the EU pledged to retaliate with tariffs on American imports such as orange juice, cranberries and bourbon.
"Logically, these unilateral measures on steel and aluminium will lead to multiple counter reactions around the world, and for sure they will be challenged within the WTO," said Philippe Binard, general delegate of European fresh produce association Freshfel Europe.
"The EU has already published a list of potential retaliatory measures that will be effective from 18 June, including on orange juice, cranberry juice and sweet corn. Elsewhere in the world, retaliatory measures may include increased taxes on US fresh fruit and vegetables."
The question, according to Binard, is whether or not the US will remove its measures on steel and aluminium in order to avoid triggering such a response.
Additional reporting by Mike Knowles and Maura Maxwell