Introduction of legislation combined with negative perceptions about plastic among consumers is driving the change
Packaging group Proseal has said that it is at the forefront of the race to find feasible alternatives to plastic trays and sealing film for the European soft fruit market.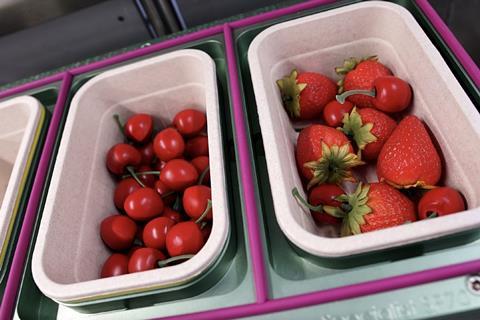 The company said that the introduction of legislation such as the UK's Plastic Packaging Tax and the EU's Plastic Waste Levy, combined with increasingly negative perceptions about plastic among consumers, is driving the change.
"Although plastic packaging still has many benefits, the amount of anti-plastic sentiment that we are now seeing means many fruit growers and packers are actively seeking a different solution," said Daryl Henshaw, Proseal's key accounts manager.
"This is particularly true of the organic sector," he continued. "People who are prepared to pay extra for organic grapes, for example, do not want to buy these in a plastic punnet, and therefore expect the sup-plier to find an alternative."
Proseal said that its "established pedigree in soft fruit tray sealing" – the company estimated that as much as 95 per cent of top-sealed trays in the UK are sealed on its machines – means it is "ideally placed to support the development of new and innovative packaging materials".
Recent introductions from the group have included the Alexa Stackpack, a craft-board punnet that provides an inline, off-the-shelf, fully printed card punnet.
However, although the punnet comes pre-assembled, until now there has been no automatic system available for folding and sealing the pack's two flanges other than by hand.
In collaboration with Alexa, Proseal said it had developed a solution that would fold and seal the flanges as the packs were filled and run through a line.
"Sealing the flanges was proving a real challenge for the manufacturer, but we have developed a unique technology to overcome this," explained Henshaw. "Soft fruit is a business with very high throughput and minimal margins, so this practical, automatic solution will really make a difference."
Proseal said another off-the-shelf system, receiving even more uptake across Europe, was the CKF Earthcycle Punnet.
This provides the option to swap easily between plastic and pulp, as well as the chance to move from plastic-based to cellulose-based film.
"The CKF Earthcycle Punnet offers a completely plastic-free equivalent to a plastic punnet and a realistic, workable alternative," said Henshaw. "Significantly, packers can plug-and-play these materials into their existing Proseal machines."