Agribusiness raises US$180.5m from global investors to invest in R&D and open new Asian markets
UAE-based Pure Harvest Smart Farms has raised US$180.5m in its latest growth funding round.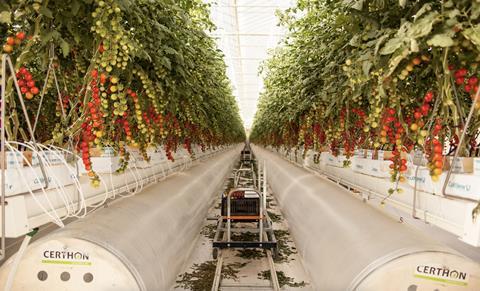 According tot he sustainable tech-led agribusiness, the financing was embraced by a consortium of key global investors, including Metric Capital Partners, UK, IMM Investment Corp, Korea, and Olayan Group, KSA, joined by several existing investors and management.
The company will utilise the capital, together with various forms of debt financing, to invest in research and development, to expand its footprint across the GCC, and to open new markets in Asia.
"We are humbled by this investment from an esteemed group of global investors, backing our mission: to harness the wonders of science, the power of nature, and the passions of people to provide tasty, affordable, sustainably-grown fresh produce anywhere," said Sky Kurtz, co-founder and CEO at Pure Harvest Smart Farms.
"At Pure Harvest we have demonstrated we can reliably deploy our high-tech farming solutions across the GCC," he continued.
"Now it is time to enter new markets that share similar challenges to our own – fast-growing populations, seasonal import-dependence, and an awareness of the crippling effects that short-term crises (eg Covid-19, Russia-Ukraine conflict), and climate change, are having on our global food system," Kurtz noted. "The future of farming is here… now, we have the resources to bring our solution to the world."
Metric Capital Partners, the London headquartered, pan-European private equity investor providing capital solutions to mid-sized companies across a wide variety of industries, was a co-lead investor.
"We are delighted to support the continued growth of Pure Harvest," said Bjørn Tessiore, partner at Metric Capital Partners.
"It's clear that controlled-environment agriculture is becoming increasingly important as a solution to food security issues while also mitigating the environmental impact of food production," he said.
"We believe Pure Harvest is extremely well positioned to thrive in this growing market driven by its excellent team, innovative approach, and proven track record of building and operating at scale in a region characterised by difficult climatic conditions for agriculture."
According to Pure Harvest, the latest round of fundraising cements its leadership position as the pioneer in CEA in harsh climates.
"This fundraise, together with the sizable research and development incentives secured from the Abu Dhabi Investment Office in 2020, will allow Pure Harvest to accelerate its growth plans, deploying growing systems in new markets and increasing research and development investments," it stated.
"The company is also investigating a number of new growth initiatives, including product extensions and water-efficient CEA solutions for fodder production."