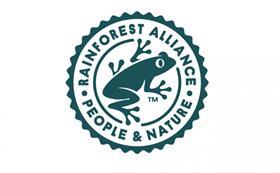 In its annual report for 2020, NGO Rainforest Alliance highlights the importance of collective strength and the need to build a global movement to achieve a sustainable future.
According to the report, Rainforest Alliance now partners with more than 5,000 companies globally, with the stated aim of "making responsible business the new normal".
"Conventional agriculture causes 75 per cent of global deforestation, which in turn fuels our climate crisis and threatens the livelihoods of farmers around the world," the report states. "Working with both farmers and forest communities is essential to our collective future."
"We partner with farmers and forest communities to build thriving rural economies rooted in more sustainable growing practices and forest stewardship," it continues. "At the same time, we also promote responsible business practices to ensure that companies reward and invest in sustainability transformation from soil to shelf."
Big businesses also have great power and resources to implement sustainability solutions on a large scale, the report says, "catalysing positive change across critically important landscapes and fostering better livelihoods for millions of rural people".
The result of two years of consultation with farmers, companies, NGOs, governments and researchers, the organisation's new certification programme lays out a "clear and inviting path toward a more sustainable future", the organisation says, focusing on building climate resilience, cultivating rural prosperity, protecting forests and biodiversity, and advancing human rights.
"Climate change poses daunting challenges for farmers: droughts, floods, shorter growing seasons, and more," the report states. "Our 2020 Certification Programme builds resilience from the ground up by promoting climate-smart growing techniques - such as planting shade trees - that help farmers adapt to and prepare for impacts, while also supporting biodiversity."
One of the benefits of this approach is its adaptability. "A high-altitude tea farm in India struggling with drought will need very different strategies to a low-lying banana farm in Costa Rica vulnerable to flooding," the Rainforest Alliance explains. "So we provide a variety of tools to help farmers assess the locally specific climate challenges they face on the ground."
An additional cash payment is designed to help farmers implement and meet rigorous sustainable agriculture requirements, while the mandatory cash payment to certified farmers helps incentivise continuous improvement.
The strengthened 2020 certification programme also introduces digital innovations and enhanced requirements to maximise protection for forests and biodiversity.
"We're working with banana farmers and companies to reduce and mitigate the use of agrochemicals and protect ecosystems," the organisation states. "Our initiative, Promotion of Social and Environmental Best Practices in the Banana Supply Chain in Guatemala and Ecuador, is designed to:
- help farmers improve their farm business management and adopt sustainability best practices
- minimise agrochemical use and related risks; find natural alternatives
- conserve natural ecosystems, promote native vegetation and boost climate resilience
- improve household health and sanitation."
In partnership with Guatemela's Agroamérica, Rainforest Alliance established pilot farms in the southwestern region of the country.
"Our goal was to create a replicable model of improvements that could be used throughout the banana industry," it says, "including buffer zones, a recycling centre, a native plant nursery, disinfection stations to prevent the spread of TR4 and dining facilities for workers."
Rainforest Alliance-certified Jasafrut, a banana exporter in Ecuador, has also taken the step of introducing mental healthcare for farm workers and their families.
According to Rainforest Alliance data, production of certified bananas reached 9.46m tonnes in 2020, up from 9.24m tonnes in 2019.