Machinery group introduces innovations to benefit packagers of both salad and round produce such as tomatoes and apples
IMA Ilapak, the fresh produce film application machinery specialist, says that its investment in R&D has yielded several innovations for producers and packers.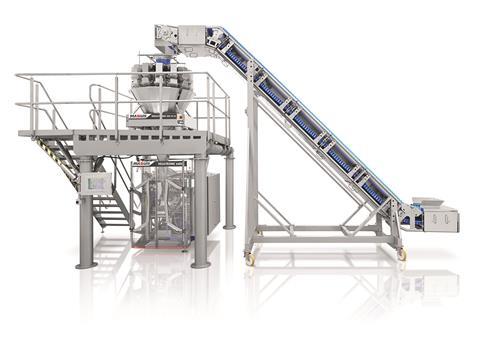 Ilapak's new Vegatronic 6000 and 6400HD VFFS vertical baggers aim to meet the demands of the salad industry, particularly in terms of sustainability and hygiene.
The group points to the machine's ultra-hygienic construction, which enables full wash down capability, even of the sealing elements.
"IMA Ilapak was one of the pioneers of ultrasonic sealing, a technology that is becoming popular with salad leaf packers and producers owing to its ability to improve seal integrity whilst delivering benefits for the environment," the group states.
"Salad producers running an IMA Ilapak Vegatronic series VFFS with ultrasonic sealing technology can expect to reduce energy consumption by up to 30 per cent and film usage by 10 per cent, whilst slashing their leaky bag rate by 80 per cent."
The packaging solution can handle new sustainable wrapping materials such as paper, compostable and biodegradable films.
Ilapak has also developed a trayless flow wrapping solution for producers and packers of tomatoes, apples and other spherical fresh products to boost its environmental credentials whilst saving on material costs and utilising new eco-friendly packaging materials.
The Carrera series is specially designed for packing tomatoes, apples, peaches, plums and kiwifruit without trays, and incorporates two design features that address this issue.
These are a pitched overhead chain that enables the safe transfer of products from the forming box to the sealing jaws, and a motorised barrette system transporting products safely through the jaws to the exit.