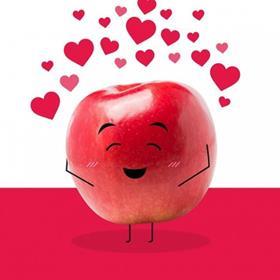 Washington-based family-owned grower, packer, and shipper of tree fruit, Stemilt, has set its newest apple variety, Rave, the ambitious target of becoming the First Verified Fruit (FVF) on social media platform, Instagram.
Brianna Shales, senior marketing manager for Stemilt, said the company decided it was a fun way to create brand recognition for the variety, especially given the current global situation.
"Like everyone else, we've had to pivot many of our marketing efforts due to Covid-19, so we chose a digital campaign that focuses on positive, rave-worthy moments to bring a smile to people's faces," said Shales.
"Obviously, the campaign plays into the rave-worthy attributes of the apple, including the name of the variety itself. The social media content will include positive and uplifting stories from communities across the country, while driving community engagement and garnering followers.
Stemilt has engaged social media influencers to help promote the brand further.
"We've carefully chosen partners who focus their content on positivity, feel-good stories, amazing recipes, and inspiration to bring some light into people's lives," explained Shales.
"Influencers like Kyndra Holley of Peace Love and Low Carb, Jocelyn Brown of Hip Mama's Place, and Katie Lemons of Twist of Lemons have a combined following of nearly 500K followers. They have a tight-knit community that makes them a great fit for celebrating Rave while it's in season."
Branded as Rave, the MN55 cultivar apple was developed by David Bedford at the University of Minnesota. It's harvested and available in the US from August to September, meaning there's only a short window of time to make an impact in its marketing campaign. The variety is the natural result of crossbreeding Honeycrisp and MonArk, a variety from Arkansas.
Stemilt is also supporting Rave and the FVF campaign by tapping into multiple channels, including Spotify, food channel Serious Eats, and social platforms.
"Rave's early timing sparks the apple category during a non-traditional time for apples," explained Shales.
"With its premium quality, fun branding and 'verifiably' amazing flavour, it will leave any consumer with a delightful eating experience," she added.