Event featured more than 550 varieties of 25 crops on the 4ha site at Grootebroek, the Netherlands
Syngenta Vegetable Seeds has said that it welcomed more than 1,700 guests to the company's annual Fields of Innovation open days in Grootebroek, Netherlands, on 27-29 September.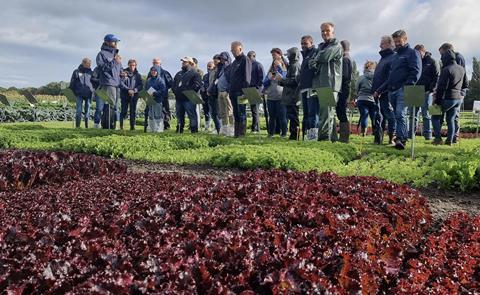 Fields of Innovation featured more than 550 varieties of 25 crops on the 4ha site, with growers and guests from around the world discovering, tasting and discussing new varieties with a team of experts in the field.
Visitors joined experts to discover the newest vegetable varieties and experience the Plant Pathology Lab, which detailed the 12-20 years of research, trials and development by breeders and researchers to bring new varieties to grower fields.
For the first time, the event included a TechZone, featuring cutting-edge technologies that enable farmers to be more productive, profitable and sustainable.
In addition, Syngenta experts showcased Interra Scan, the Biodiversity Sensor and the EDAPHOLOG soil insect sensor.
"This year we set an attendee record with people eager to learn more about our key varieties and other Syngenta innovations," said Arend Schot, Syngenta Vegetable Seeds head Europe, Africa, and Middle East.
"This has become a major meeting point for growers and their customers, distributors and our own breeders, and our product development and commercial teams.
"Our tireless commitment to finding solutions for growers will never change," he added. "The technologies we showcased at Fields of Innovation are proof that we want to work hand-in-hand with growers to solve the challenges they face every season so we can become their true partner in their challenging work to feed the world."