Ecowoox label will help suppliers prove sustainability of wooden packaging to shoppers as Fedemco prepares to roll out new certification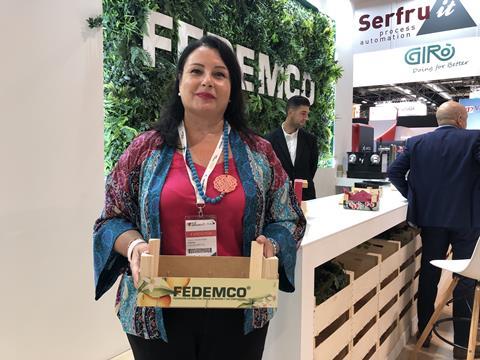 A new sustainability seal called Ecowoox will give fresh produce suppliers a "competitive edge" when trying to reach eco-conscious final consumers.
This was the message from Fedemco, the Spanish federation of wooden lightweight packaging, when it presented the key elements of its new certification to trade press at Fruit Attraction 2023.
The label proves that the boxes produced by Fedemco and displayed by retailers are made from 100 per cent recyclable wood. It is designed to ensure compliance with new EU rules on packaging waste.
European Packaging and Packaging Waste Regulation (PPWR), published in November 2022, introduces the concept of "extended producer responsibility", which compels growers to ensure full recyclability and established recovery rates for their packaged goods.
Certification will soon be required to prove this, said Fedemco's new managing director Raquel Aguado Muñoz, prompting the introduction of the Ecowoox label.
The new EU legislation also harmonises packaging policies among EU member states and imposes a 15 per cent reduction in packaging waste by 2040.
Once used by a fresh produce supplier and retailer, Fedemco's boxes can be collected and made into recycled wooden boards, for use in furniture etc.
As well as ensuring compliance with new EU legislation, the recyclability seal will "prove the sustainability" of wooden packaging to the final consumer, who doesn't know whether most fresh produce packaging is recyclable or not, according to Muñoz.
The Ecowoox label was launched earlier this year and three Spanish fruit and vegetable suppliers have already signed up to the new certification.
Boxes carrying the new seal are expected to appear on supermarket shelves in Europe in early 2024, and the aim is to expand the new label to other European countries in the coming months.
Fedemco is a member of Grow International, a European organistion bringing together manufacturers of lightwood wooden packaging.
The Grow network spans organisations in France, Germany and Italy, as well as Spain, so Muñoz said these countries are its "natural targets" for expanding the Ecowoox label.
She also mentioned the UK as a target market, saying UK retailers and consumers are "aligned with sustainability trends" and "have higher requirements than in many other European countries".