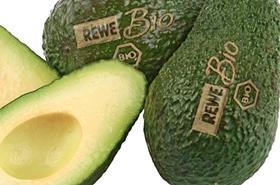 Having decided last summer to do away with plastic bags in all of its stores, German food retailer Rewe Group has continued its quest to trim unnecessary packaging by trialling a new system of laser labelling.
The pilot scheme will see it adopt the system - which involves laser-printing product information directly on to the outside of a product - for organic fresh fruit and vegetables, starting with avocados and sweet potatoes sold through both its Rewe supermarket and Penny discount chains.
The move follows a recent announcement that Penny will no longer sell bananas in plastic bags. Instead, those bananas that need to be accompanied by product information or marketing messages will be merchandised with a more minimal band wrapped around them.
Starting in northern Germany, Penny has begun to remove the superfluous packaging from all of its stores (around 2,150) and expects to complete the process by the end of March 2017.
The retailer has also estimated that the amount of plastic per year saved as a result would be enough to cover 900 football pitches.
Elsewhere, Swedish supermarket chain ICA has rolled out its own trial of laser labelling in partnership with Dutch supplier Nature & More.
The scheme, which similarly involves avocados and sweet potatoes, is part of a concerted effort by the retailer to reduce the amount of packaging and labelling it uses to sell its fresh produce.
Peter Hagg, ICA's senior manager for fruit and vegetables, told The Guardian: 'It's a new technique, and we are searching for a smarter way of branding our products due to the fact that we think we have too much unnecessary plastic material or packaging material on our products.'