The Ecuadorean banana supplier has been recognised for its sustainability efforts, including training programmes, plastic waste reduction and promotion of respect for human rights and gender equality
Ecuadorean banana supplier Reybanpac has picked up an award from business magazine Ekos as one of the Best Companies with Triple Impact: economic, social and environmental.
Vicente Wong, CEO of Favorita Fruit Company, received the award on behalf of the entire Reybanpac team, the only company recognised in the "Agriculture and Forestry" category.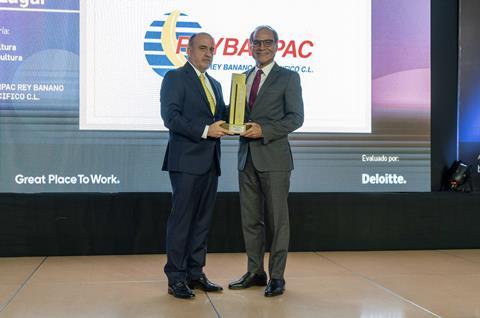 "This award drives us to achieve even greater goals in our journey as a responsible company that seeks to make a positive impact," said Wong. "Reybanpac is a company with a purpose, and our actions will always be closely linked to generating well-being and development for our people and the communities that surround us; taking care of the planet, which is our common home."
The Ekos evaluation committee looked at each company's market position, revenue growth, profitability, tax contribution and commitment to sustainability in the environmental, social, diversity and inclusion fields, with the results evaluated by Deloitte.
Reybanpac put forward its Productive Technical Baccalaureate (BTP) programme with a specialty in agricultural entrepreneurship; its circular economy project focused on making use of plastic waste; and its actions to promote respect for human rights and gender equality.
"The objective of the BTP is to generate opportunities for social transformation and economic growth for young people in rural areas through specialised training in banana production, obtaining a professional technical degree that increases their job opportunities inside or outside our organization," the company explained. "This dual education programme, developed in agreement with the Wong Foundation and the Ministry of Education, began in 2021 and remains in force."
Reybanpac is also identifying opportunities to use the plastic waste from its 43 farms in its operations and social programmes. At present, 100 per cent of the waste is incorporated into this plan, which began at the end of 2021.
"To date, more than 300,000 plastic posts have been produced for banana export pallets," the company revealed, "and a set of recreational games for the Segundo Wong educational unit."
"Our work does not end there," added Wong. "There are several projects that we are implementing in the environmental and social field, and we will continue to advance in them. We believe that sustainability is the best way to add value for our clients and consumers, but also the only way to guarantee a better future for our collaborators, rural communities and our country."