Seed company says its Paxton variety is "a dependable choice" in production regions under pressure from the pathogen
Rijk Zwaan has championed its Paxton RZ cauliflower variety as an option for growers facing up to the threat of the clubroot pathogen.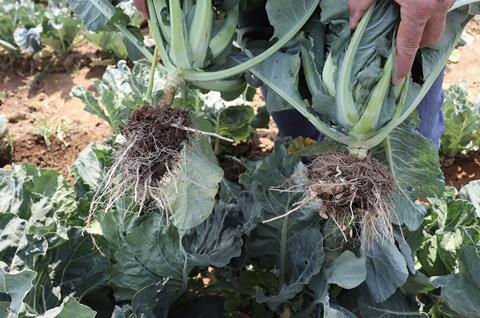 Clubroot (Plasmodiophora brassicae), which particularly affects brassica crops, has been around for many years and occurs on all continents, currently affecting 10 per cent of the total production area.
Michael Kreitz, crop coordinator cauliflower at Rijk Zwaan, said the the disease was difficult to tackle and once the pathogen was in the soil it posed a "big problem" for growers.
"Severe cases can cause a total loss of crops, so a cauliflower variety with clubroot resistance is a very welcome development," he explained.
The company noted that when it was launched 18 months ago, Paxton RZ was the first Rijk Zwaan cauliflower variety with high resistance against the clubroot races Pb:0, Pb:1 and Pb:3.
All high resistance varieties can be recognised through to the Pb Defense label, with Paxton representing a "real breakthrough" according to breeder Evgeny Novoselov.
"Breeding was a complex and intense process that took us more than a decade," he said. "But that was actually pretty fast, because brassicas have a long growth season.
"Growers have peace of mind thanks to the harvest reliability in combination with sales flexibility."
Over the past months Paxton had proved its value in practice, Kreitz outlined.
"Growers have discovered that a variety with Pb Defense significantly reduces the risk of infection," he said. "We have photos to illustrate the difference.
"At a site where clubroot was rife, only 20 per cent of the susceptible variety survived until harvest. Paxton continued to grow strongly, resulting in a harvest percentage of 85 per cent. That gives growers peace of mind."
Rijk Zwaan pointed out that more and more growers were choosing Paxton, including in key production regions such as Brazil, Germany, Poland, Portugal, Scandinavia, Australia and the US.
As a follow-up to Paxton, the group is currently testing a wide range of cauliflower varieties with Pb Defense.
"We expect to launch another summer variety onto the market soon, with the same harvest reliability but a shorter growth cycle," added Novoselov. "We are also working on Pb Defense varieties for autumn and winter production."