Ready. Set. Rocket. Back to School will build on last year's marketing campaign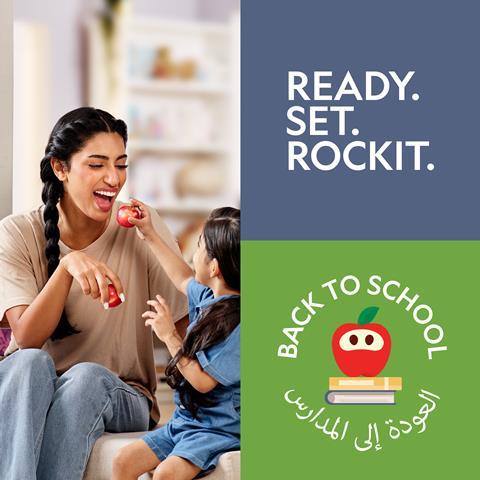 Snack-sized apple company, Rockit Global has launched a new campaign across Gulf Cooperation Council (GCC) countries to mark the return of millions of children to school. The Ready. Set. Rockit. Back to School campaign builds on the momentum of the Ready. Set. Rockit. Campaign, which ran at the end of last year.
Rockit market manager for the Middle East and North Africa, Ziad El Chawa, said the apple brand – which is sold in 30 territories worldwide – continues to prove popular with consumers in the Middle East.
"In the UAE alone, Rockit sales have increased 35 per cent year-on-year (2023 vs 2022) and unprompted consumer brand awareness has jumped a massive 9 per cent (Q2 2023 vs Q2 2022)," he said.
"As part of our ambition to become the world's most loved apple brand, we're excited to be collaborating with our partners across the Gulf region to enhance our activities each year.
"We're launching our Ready. Set. Rockit. Back to School campaign in hundreds of stores with targeted tasting moments and gamified displays to build connection to the Rockit brand and drive consumer demand."
The campaign will feature a significant presence instore with activations encouraging children to stay fit and healthy, along with limited edition gift boxes shaped like a book, containing Rockit apples, a pencil case and games. This will be supported by extensive digital activity including a social media competition with 20 juicers up for grabs on the @Rockitapplearabia Instagram page.
Rockit marketing executive for the Middle East and North Africa, Suha El Dassouki, said the apple brand's willingness to think and act differently is the key to its growing global popularity.
"We do things differently by focusing on enriching the lives of our consumers and finding new ways to enhance their retail experience. Our brand character, Rocki, is leading this strong omni-channel campaign with positivity and natural energy to highlight the importance of learning, while inspiring millions of new consumers to Rockit every day," she said.
"We've worked hard to pack a punch not only with our premium product, but also with an exciting experience for our consumers across the Gulf region during this peak sales period. "There's something for everyone in this world-leading marketing campaign, enabling consumers to enjoy the Back to School season the Rockit Way! It's just another step in our journey towards sharing 400m of our delicious and nutritious snack sized apples with the world by 2025."
Rockit Back to School limited-edition packs are now available in stores and online across the GCC countries.