Apple brand signs year-long MOU with hypermarket group to help grow the Middle Eastern market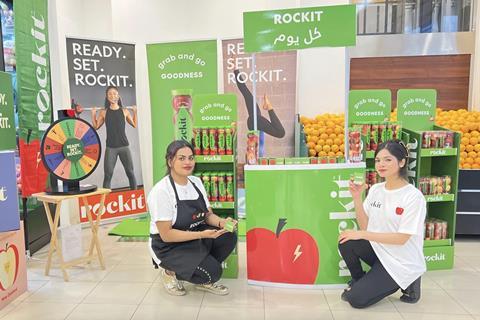 New Zealand-based apple brand Rockit Global has championed the first memorandum of understanding (MOU) in its category, signing a 12-month deal with Lulu Hypermarkets across the Middle East.
The partnership agreement – dubbed the Rockit Apple Partnership Programme (RAPP) – determines the relationship and intention between both parties to grow the Middle Eastern Market for Rockit and Lulu Hypermarkets.
Rockit market manager for the Middle East, Ziad El Chawa, said that as an apple brand that innovates and thinks and acts differently, Rockit "couldn't be prouder" to be collaborating with Lulu Hypermarkets to "make a huge impact in store and online to drive Rockit sales".
"The RAPP will enable us to share information and ideas to create strong localised campaigns together, driven by local insights," said El Chawa.
"This will see more large format displays in-store, along with strong consumer led omni-channel campaigns and engaging promotions that disrupt the category and introduce Rockit to millions more consumers."
Global business development manager Charley Grant said Rockit was looking to sign RAPP agreements with a select few retailers spanning multiple markets to help drive an increase in sales of up to 50 per cent year-on-year.
"The RAPP agreement will allow us to span over multiple countries with the same retailer, providing these retail partners access to unique and exclusive activations and insights to help drive Rockit sales," said Grant.
"Through data sharing, the agreement will ensure we're ahead of the latest consumer trends to benefit both the retailer, and the end consumer," Grant explained. "We are excited to launch this new initiative with Lulu Hypermarkets and look forward to working together in this exciting partnership."
El Chawa outlined that, following strong year-on-year growth in 2022, it was "exciting" to see a record number of New Zealand apples arriving in the Middle East this year.
"We take great pride in fruit quality at Rockit, and the fruit coming through this year is bursting with incredible colour and flavour as we gear up for our strongest season yet," he added.