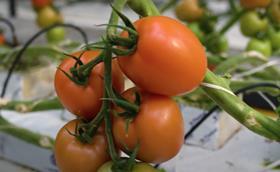 Russia's Rost Group has agreed to acquire Valley of Vegetables, a major Russian producer of tomatoes, cucumbers, aubergines, salads and berries, according to Fertilizer Daily.
The producer, which boasts 195ha of greenhouses, markets its vegetables under the Valley of Vegetables brand, while its strawberries are sold under the moniker Vybery Menya, meaning 'Choose Me'.
Rost Group currently has four greenhouse complexes in operation and a further two under construction, with a combined area of approximately 193ha.
The deal brings Rost Group's greenhouse complex to around 388ha, increasing its capacity to 320,000 tonnes of tomatoes, cucumbers, salads and berries a year, according to the company.
Mikhail Glushkov, director of the National Union of Fruit and Vegetable Producers, said the deal, estimated by analysts to be worth around RUB45bn (US$592m), would make Rost Group the market leader for greenhouses vegetables domestically, New Ag International reported.
According to the head of Rost Group, Sergey Rukin, the company's strategy is to expand its presence in key Russian regions and improve cooperation with its customers, NAI revealed, with the merger expected to boost operational efficiency and consolidate the group's position on the domestic market.
Rukin reportedly said the deal would allow the group to optimise harvesting of its vegetables in order to prioritise taste.