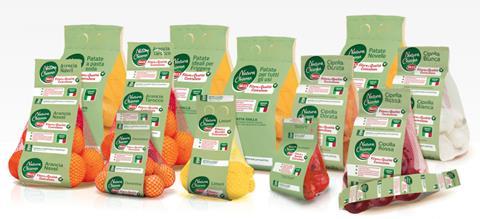 Italy's second-largest grocery retail group Selex says it is ready to switch all of its mesh bag packaging for products including citrus, potatoes, onions and garlic to a lighter format that uses less plastic, the first retailer in the country to do so.
The company, which operates several different retail companies with more than 3,200 outlets across Italy, recently ran a trial using the innovative, ultra-light Sormapeel line. Now, it plans to convert its entire product range to the new format.
"We are very pleased that companies of this calibre have taken such swift action to implement their commitment to sustainability," comments Mario Mercadini, large-scale distribution manager at packaging and technology specialist Sorma Group. "Sormapeel fulfils the 3 Rs: reduction, recyclability, and reusability."
It's a small, but highly significant change. On average, the new packaging contains 30 per less plastic than traditional packaging, and 30 per cent more paper, which is fully recyclable and provides around twice the printed area as normal packs. Plus there are no inks or glues involved. All of which means that, as well as offering the robustness, functionality and lightness that retail buyers demand, Sormapeel is also easier to recycle.
What's more, including FSC-certified paper means the packaging is made from 30 per cent renewable raw materials, and therefore meets EU goals on reducing the impact of plastics.
"This step is part of a wide-ranging project focused on sustainability in all of our commercial branded products," says Luca Vaccaro, commercial brands director at Selex Group. He says the organisation is working to safeguard conditions in its supply chains, to boost the quality of its raw materials, to educate people about nutrition, and to reduce its environmental impact.
"With regard to the latter, we are working to reduce the amount of plastic required for the same performance, to replace virgin raw materials with recycled raw materials, to convert non-recyclable packaging into recyclable packaging, and to eliminate overpacking."