At Fruit Logistica in Berlin, the machinery specialist championed its OptiCor system for coring heads of iceberg lettuce
Dutch sorting machine group Sormac was on site at Fruit Logistica in Berlin to present OptiCor type OC-60, its new solution for coring heads of iceberg lettuce.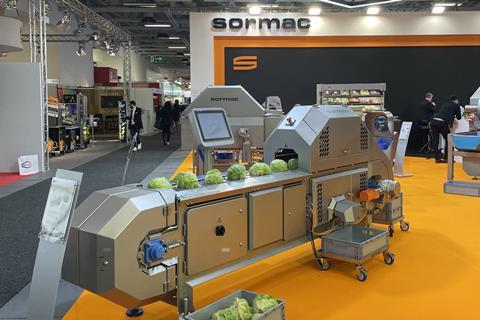 According to the Venlo-headquarted company, OptiCor offers several features to ensure a "perfectly cored product", including coring from the bottom, adjustable coring depth, a smart digital control panel and 100 per cent separation.
"The machine is unique in that the coring mechanism is located below the product," said Jeroen Thijssen, R&D manager at Sormac. "This guarantees a 100 per cent separation of the product and the waste stream.
"To make this possible, we've developed a targeting system with a camera," he continued. "Aided by a monitor, the operator easily positions the crop within the set tolerance level. After this, the head is perfectly cored and divided into 2, 4 or 8 pieces."
The OptiCor is able to core 60 heads per minute, Sormac outlined, and requires a single operator; otherwise the machine is fully automatic.
As the core is removed from the bottom, any risk of cores ending up with the good product is eliminated, the group said.
"Together with our team of software engineers, a system has been developed that sets the coring depth as favourably as possible," Thijssen explained. "It allows the machine to achieve a yield of more than 95 per cent."