Hortgro anticipates increase in plum, peach and nectarine crops as part of a "high-quality export season"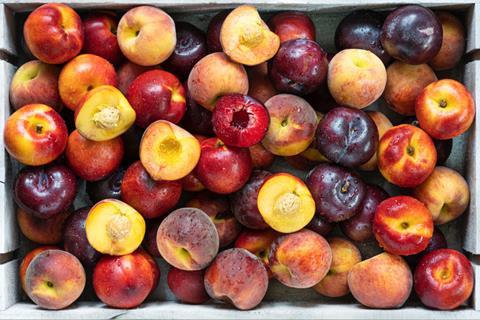 South African stone fruit suppliers are predicting a stable and high-quality 2022/23 export season, with improved volumes and a return to smooth trading after a series of logistical challenges over the past year.
According to figures from trade body Hortgro, exporters are forecasting a 4 per cent increase for both plums and peaches at 86,000 tonnes and 6,550 tonnes respectively, with a 15 per cent rise in nectarines to 23,650 tonnes.
Better weather conditions and a focus on quality and fruit size have left growers expecting a good to above-average stonefruit crop, Hortgro said.
There has been particular attention on expanding the nectarine and plum sectors, with several new orchards planted over the past five years to support volume growth.
With the recent South African port strikes now over and a focus on removing the backlog in the system, fruit and other perishable products are being prioritised to ensure on-time delivery to European markets, the trade body said.
The return to stability and a larger estimated export crop had set South Africa up for a positive UK promotional campaign for 2022/23, Hortgro outlined.
This year's push will be primarily focused on retailer collaboration, and in particular driving sales during the peak weeks for plum supply.
A range of in-store promotions will feature, as well as an exclusive competition with Sainsbury's, offering customers the chance to win a trip to South Africa.
The contest will be promoted in packs of South African plums and in Sainsbury's customer magazine.
Branded shroud units will be on display in Morrisons stores, in addition to digital advertising on both Ocado and Tesco's websites.
Completing the wide-scale promotion will be trade advertising, trade and consumer PR, social media activity, influencer collaborations and monthly newsletters circulated to key industry figures.
Hortgro said that, at a time when consumers are facing a cost-of-living crisis, South African stonefruit represented a cost-effective and tasty option.
"Retailers are planning to support the campaign by offering South African stonefruit at excellent price points this season, which makes it a healthy and affordable snack for consumers," said Jacques du Preez, general manager of trade and markets at Hortgro.
"Stonefruit lends itself perfectly to cooking at home without having to spend a lot, whether you're stewing it for winter puddings or adding it to hearty curries."