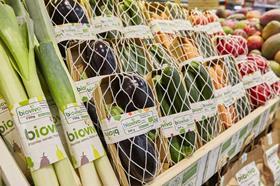 Organic farming area in Spain grew 4.8 per cent in 2019 to 2.35m hectares, according to Agriculture Minister Luis Planas.
He said the increase showed the country is on the right track to meet the sustainability and biodiversity objectives set by the European Union while maintaining the balance between sustainability and profitability.
Organic farming has been growing by an average of 7.5 per cent a year for the last five years and it now accounts for 9.3 per cent of total agricultural area.
Together, pasture and arable crops make up three-quarters of organic acreage, with nuts, vineyards and olive groves the next biggest categories.
Although it still represents a small percentage of the overall acreage, the area given over to organic fruit and vegetables has risen significantly in recent years.
This is being driven by increased market demand and greater availability of fertilisation and pest control systems suitable for organic production.
Within the fruit and vegetable category, organic banana acreage increased by 25 per cent; citrus by 19 per cent, other fruits by 9 per cent and potatoes by 13 per cent.