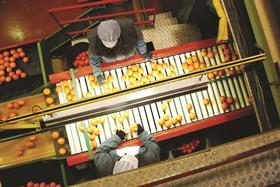 Spanish exports of fresh fruit and vegetables grew by 3.6 per cent in volume and 12 per cent in value in March compared to the year-earlier period, despite the country being in lockdown for half of that month due to the coronavirus pandemic.
Shipments totalled 1.3m tonnes with a value of €1.592bn, according to customs data. Fepex said the results reflected "the strength of the sector and its strategic importance in society and for the Spanish economy".
Fruit exports grew 10 per cent in volume and 19 per cent in value compared to the same month of 2019, totalling 658,103 tonnes and €836.7m, registering strong increases in most products with the exception of strawberries.
Citrus, the main fruit exported in March, showed the biggest increase in volume and value.
Also noteworthy was the rise in topfruit exports, with apples up 47 per cent in volume and 61 per cent in value (12,385 tonnes and €9.3m) and pears up 5 per cent in volume (7,140 tonnes) and 21 per cent in value (€5.6m).
Strawberries, however, fell 3.4 per cent in volume and 8 per cent in value to 76,934 tonnes and €153.5m respectively, reflecting a shift in purchasing habits towards longer shelf-life products by consumers confined to their homes.
Vegetable exports for March fell by 2 per cent to 669,119 tonnes, but saw their value increase by 7 per cent to €755m.
Tomatoes, peppers, lettuce and cabbages led shipments. While tomato and pepper volumes fell by 15 per cent and 5 per cent (to 100,857 tonnes and 114,191 tonnes respectively), their value increased slightly – by 2 per cent to €129m in the case of tomatoes and +1 per cent to €170m for peppers.
Lettuce exports fell in volume and value, reaching 102,693 tonnes (-9%) worth €91m (-2%), while cabbages grew both in volume, with 77,609 tonnes (+ 5.5%) and in value, with €85m (+ 14%).
"Fruit and vegetables are one of the few sectors of the Spanish trade balance to have registered a positive evolution in this month of March," Fepex noted.
"For this reason, we reiterate the need for new measures to improve competitiveness and face the threat of third countries that do not apply the strict community regulatory framework, as well as a second group of measures for the sectors seriously affected by the pandemic, such as soft fruit, so that they can face the next campaign and continue contributing to supply the national and community market."