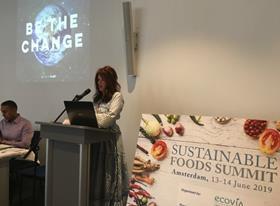 The economic risks of climate change to the agriculture sector were a major talking point at last month's Sustainable Foods Summit, held in Amsterdam and organised by Ecovia Intelligence.
Soil & More co-founder Tobias Bandel explained how the climate crisis was affecting soil fertility and crop yields and called on farmers to reduce their economic risk by building farm-system resilience through crop rotation and diversity, green manure and crops and biomass recycling.
"Climate change is bad for the world, but it is also bad for your profitability," he said. "Business as usual is not managing the emerging risks well enough. The good news is that there are feasible and practical solutions available for dealing with the impact of climate change on agriculture."
A number of presentations delved into the potential of plant- and insect-based alternatives to meat, while others focused on technological solutions.
Pia Rothe of Global Risk Assessment Services (GRAS) pointed to the use of the group's ISH Field and Tracking mobile apps to identify issues including signs of deforestation or low yields and to trace raw materials back to the smallholders.
"Traceability is crucial," she said. "If you can follow the product back to the farm, your sustainability commitments have credibility."
Fenja Nickelsen of F-Trace presented the use of blockchain to increase transparency and improve communication in order to build trust and save costs, such as those involved in a product recall or litigation.
Wayne Johnson of OAL Connected highlighted the potential of Artificial Intelligence to improve forecasting and reduce human error, a huge factor in food waste, including the use of its April Eye vision system for label and date code verification.
Al Overton of UK-based retailer Planet Organic, whose stores achieved zero food waste last year, stated that community initiatives would be a significant part of any efforts to tackle climate change and boost sustainability.
"At Planet Organic, we use the food sharing platform Olio, as well as Too Good To Go, an app allowing our customers to find out what will be thrown out that day so they can collect it. Across our stores, 1,200 meals are rescued each month."
Melvin de Groot of Too Good To Go revealed that the company's mission was to inspire and empower people to take action against food waste.
"Through our app, consumers get great food at good prices while helping the environment, and our partners get to reduce their waste while being introduced to new customers," he said. "We can't do it all with an app, so we have started a movement. By the end of 2020, we want to inspire 50m people, work with 75,000 businesses, work with 500 schools and impact regulation in five countries."
Inevitably, the Summit eventually turned its attention to plastic waste, currently one of the biggest issues for consumers.
"We shouldn't be spending billions on clean-ups when we could just be designing packaging differently," said Frankie Gillard of environmental campaign group A Plastic Planet. "Let's turn off the plastic tap. We're way more powerful than we think."
She called on companies to act or lose business. "64 per cent of consumers think retailers and brands are not doing enough," said Gillard, who is encouraging retailers to follow EkoPlaza and Thornton Budgens in developing plastic-free aisles. "Customers are actively going to boycott companies that turn a blind eye to this issue. So do what's right, not what's easy."
Michaël Wilde, sustainability manager at Dutch organics specialist Eosta, called on governments to introduce taxes on plastics and carbon and to look at the possibilities of True Cost Accounting.
"We need to inform consumers not just about the bad things that are happening, but about the good options that are now available," he said. "Consumers are already changing their behaviour, which is positive. I'd like to see a total end to single-use plastic packaging and I think this will happen quickly. We need a definition of profit that includes natural and social capital. True Cost Accounting would transform the global economy for the better."
Wilde stressed the benefits of Natural Branding, otherwise known as laser labeling, while Futamura's Clare McKeown talked about the potential of compostables made from cellulose-based biopolymers and VPZ's Markus Kainer showed how his firm is taking cellulose from wood to make PackNatur, which is used in net packaging.
"We need to ban plastics where we can and offer subsidies for sustainable alternatives," said Kainer. "Look at what we did with cigarettes. If we wanted to get rid of plastics, we really could do it."