Global genetics and licensing company appoints a raft of new licensed marketers across Brazil, Chile and Peru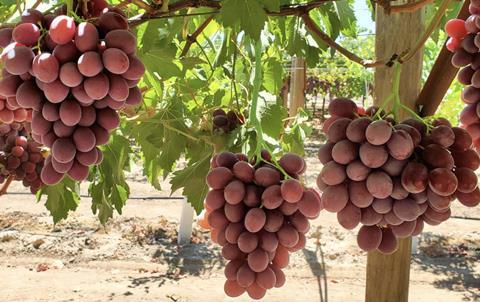 Sun World International has announced the addition of several new South American companies to its lineup of global licensed distributors.
The California-based genetics and licensing company has recruited three newly licensed marketers in Brazil (Agrobras, Coopexvale and Ebraz), four in Chile (Agrofruta, Chilfresh, Frutícola & Exportadora Atacama and Greenvic), and three in Peru (El Pedregal, Corporacion Agrolatina and Migiva Group).
"We are proud to welcome these grape producer-marketers to the Sun World community and pleased to expand our distribution channels to fulfil increasing market demand for Sun World's leading table grape brands to be enjoyed by retailers and consumers worldwide," said Garth Swinburn, Sun World vice-president of global marketing.
The new marketers have been granted rights to distribute fruit from existing and future fruit varieties developed by Sun World, and marketed under the company's brands, such as Autumncrisp, Midnight Beauty, Sable Seedless, Adora Seedless and Scarlotta Seedless
Brazil
Family-owned company Agrobras has production in Casa Nova, Juazeiro and Petrolina, with 700ha planted to mangoes and 230ha to grapes.
Coopexvale is one of Brazil's leading grape cooperatives with around 21 growers supplying a diverse spread of domestic and international markets.
Ebraz is a key grower-packer-exporter of Brazilian fresh fruit, with mango and grape farms spanning more than 1,300ha.
Chile
Agrofruta focuses on growing, packing and shipping its own fruit, and it now farms over 1,800ha across 11 farms from Copiapo in the north of Chile, and through the Central Valley from San Felipe down to San Javier. The company produces a range of fruit, including grapes, cherries, apples, pears, kiwifruit, blueberries and walnuts.
Santiago-based Chilfresh has a supply base of growers and exporters across Chile, Peru and Argentina and a strong customer base in Asia. It supplies various fruits, including, grapes, avocados, cherries, kiwifruit, plums, apples and blueberries.
Frutícola & Exportadora Atacama has grape, citrus and avocado plantations covering over 1,800ha, and its varietal portfolio is enhanced by its partnerships with leading genetics companies.
Greenvic specialises in growing and exporting organic fruit and it has expanded from its origins in rural Chile to develop a strong international presence in the fresh produce industry.
Peru
El Pedregal specialises in growing and exporting table grapes with a focus on producing leading-edge varieties using the latest cultivation techniques.
Corporacion Agrolatina is one of Peru's leading growers of grapes, avocados and pomegranates. It grows 13 different grape varieties across more than 850ha, exporting them to over 16 countries.
Migiva Group is a group of diversified companies supplying high-quality products and services to the domestic and international market across agriculture, aquaculture, fisheries and construction and real estate.