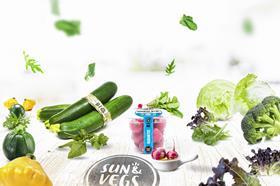 Sun&Vegs has introduced a number of new conventional and organic products to its whole and fresh-cut range, which will be showcased at this year's Fruit Attraction trade fair.
New offerings include purple radishes and different types of courgettes, including the star-shaped courgette, round courgette, and yellow courgette.
"The colour green will take centre stage with the extensive range of lettuce varieties arriving straight from the field, such as lettuce hearts, romaine lettuce, little gem lettuce, and endives," the company said.
"The red oak leaf lettuce stands out among all the varieties for its intense colour. The colourful and innovative line complements the array of microgreens, nutrient-rich fresh vegetable sprouts, sold live or pre-cut, with flavours such as mustard, horseradish, broccoli, kale, cilantro, and basil."
Appealing to the five senses, the company's stand will also offer a space dedicated to herbs featuring varieties such as parsley, cilantro, spearmint, chives, and basil.
Sun&Vegs will also unveil its fresh-cut line at the Fruit Attraction trade fair that includes fresh and ready-to-eat bagged vegetables, complete salads, and microwavable fresh meals, offering options in line with the tastes and needs of today's consumers.
The company has also expanded its organic line in response to the growing demand for these types of products. ItsBIO Sun&Vegsbrand now includes vegetables such as green courgettes, broccoli and broccoli florets, iceberg lettuce, corn, and radishes. In total, it now produces than 20 organically-certified products.
The company said it also continues to develop more sustainable packaging alternatives which in turn guarantee the food safety and quality of every product.
It will present its latest milestones at the trade fair, including packages for complete salads made withrecycled and 100 per cent recyclable material, as well as zero plastic packaging options for agricultural products, promotingcardboard traysand wrapping withkraft paper ribbonsas alternatives.