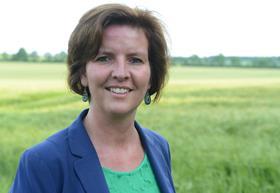 Global crop science giant Syngenta has appointed Kris Goen as the company's vegetable seeds commercial manager for the UK, Eire and Nordics.
Goen, who joined Syngenta in 2012 and has held a number of roles within both the crop protection and seeds business, replaces James Gray, who has moved to the role of sales head for LSV across Europe.
Goen has a Master's degree in Agriculture and Biotechnology, having worked in a research centre before joining Syngenta as a technical and solutions manager.
Her role will support the existing sales and technical teams across the region, to develop and fulfil new Syngenta vegetable introductions for grower customers and the value chain, the firm said in a statement.
In separate news, Syngenta has announced it will sponsor the Global Tomato Congress, on 16 March 2021.
The premier global event for the fresh tomato industry will offer a mixture of on-line talks, interviews and discussions, to explores the latest innovations in the tomato category, along with the chance to meet and interact with Syngenta - a global leader in tomatoes.
'Syngenta provide more than 350 different varieties to growers all over the world, from our leading baby plum tomatoes, to the award-winning YOOM and our well-loved Climbo vine tomato,' Goen said.
"We are continually innovating and trial more than 80 varieties with customers every year, to ensure we commercialise the ones that work for growers and that consumers want to eat."
She highlighted that Syngenta uses combinations of traditional methods and new technologies to generate advanced genetics for all types of tomatoes. And she added that, along with the successful supply in snack and specialty tomatoes, the company's new advances in mainstream tomatoes, including large plum, cluster, beefsteak and Marmande are soon to be seen.
Syngenta recently brought to market a ground-breaking tomato variety which is resistant to the Tomato Brown Rugose Fruit Virus, she said.
"Our new R&D center of excellence, Tomato Vision, is designed to work with the entire tomato community to speed up breeding," Goen added. "We have 1,000 unique hybrids under testing in 14,000m2 of greenhouses. Opened last year, it offers an immersive visitor area for growers, retailers and consumers to connect and engage – now fully accessible with digital virtual visits.
"This is why we are proud to sponsor the digital Global Tomato Congress. We are looking forward to sharing some of our innovations and hearing about fresh thinking and the latest trends," she said.