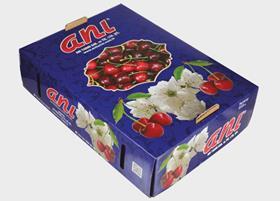 As the new cherry season approaches in Turkey, how's everything looking? Have the weather conditions been good for production?
Mehmet çakmak: Turkey has had favourable weather so far, although there could still be challenging times ahead before the harvest. We have not had any winter damage or spring frosts in our orchards, which are currently in the post-bloom phase. The blooming period in cherry orchards across the western Anatolia, in places like İzmir, Manisa and Denizli, was quite promising for all Turkish cherry exporters, but the risk of excessive and continuous rain will remain a threat in our minds for a number of weeks. At Anı Tarım, we expect to harvest and start exporting from the last week of May until early August.
What varieties are you exporting?
MC: Our main export variety is Ziraat 0900, internationally known as Napoleon. We expect to start our first volumes on around 25 May. We also export smaller volumes of Sweetheart and Regina. We are aiming to be more active in Canada, Southern Asia and the Baltics, looking for sustainable growth in the medium and long term.
Last year, we experienced high demand for cherries, especially from Asian countries like China, but unfortunately we couldn't follow all such leads due to the limited capacity of our sorting machine back in 2019. The main reason behind the increase is the protocol signed between Turkey and China last year in order to facilitate cherry exports from Turkey. This is why it was necessary for us to adopt a new technological system, and we have recently renewed our sorting and packing machine with Unitec's Cherry Vision 2, which we hope will enable us to process larger amounts and further improve our quality
What sort of volumes do you expect? Will the coronavirus crisis have an impact?
MC: In 2019, we produced a total of around 8,500 tonnes of cherries and exported 6,800 tonnes over the course of the season. It was a good one both in terms of the quality of the crop and the market. But looking at the current situation, the conditions are completely different due to the global pandemic and the economic uncertainty. We do not want to be pessimistic at all for 2020. We foresee disruptions to demand in European markets, but we expect to increase our exports this year, as the main cherry-producing countries in Europe face challenges, including lockdowns and labour shortages. Turkey is less impacted by such issues and could fill the gaps in supply. We have not encountered major problems in the agricultural sector when it comes to labour. People in harvesting and packing processes are able to keep working by taking the necessary precautions. As these people are mostly Turkish locals, we do not need to recruit others from outside the country, which gives us a big advantage.
Will Covid-19 affect your ability to reach new customers?
MC: We are continuing our marketing activities via the internet, since all trade-related visits and events have been cancelled. This certainly affects our ability to create face-to-face business relationships, but we are still able to forge new partnerships. At this point, every actor and stakeholder in the sector needs to focus on more practical, flexible and wise solutions to meet and find each other in their markets.
We have significantly increased our online marketing activities and promotions over the last two years. We are paying more attention to social media shares, including on Instagram, Facebook and LinkedIn, in order to increase our global recognition online. Since the global pandemic has forced people to spend more time at home and online, we believe keeping them well informed is essential.
Do you expect many logistical issues due to the pandemic?
MC: We expect there to be some restrictions on movement and logistical delays, especially for road and sea shipments. However, for exports to distant markets like Asia, we prefer to use airfreight. We are working with the transportation companies and service providers who are doing their best to minimise any potential negative impacts, such as by increasing the frequency and capacity of cargo flights.
Is climate change also a worry for the future? Are you already seeing any effects?
MC: Climate change is one of the main challenges that we and the whole world are facing. Our headquarters is based in Isparta, 1,000 metres above sea level. For the last two decades we have been observing fewer cold winters, less snow and hotter summers. We believe this is directly affecting the ecosystem in the region. We have also suffered a lack of water in our hometown. Lake Eğirdir is the fourth largest lake in Turkey, a major freshwater lake, and is the main irrigation source for our apple orchards. Like the other lakes in the area, Lake Eğirdir is experiencing excessive water loss, which we believe is partly a result of evaporation from the surface.