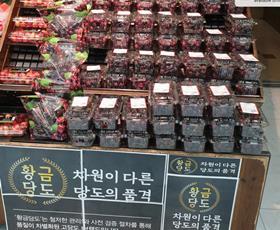 Although the Turkish cherry season was delayed by a few days this year, good volumes are anticipated, especially from the third week of the season onwards.
"In terms of quality, compared with other Mediterranean cherry exporting countries, Turkey has not been affected much by the weather conditions," says Yiğit Gökyiğit, marketing and sales coordinator at Alanar Fruit.
Turkish exporters are anticipating strong demand for cherries from the German market this season, with increasing quantities going to the country's main supermarket chains this year.
Exports to the UK and France, as well as to eastern Europe, are also expected to rise, while the potential in the Middle East and East Asia continues to grow.
Asian potential
Last year, according to Gökyiğit, Alanar was the biggest exporter of Turkish cherries to China, accounting for 52 per cent of Turkey's total export volume to the market.
"Unfortunately, the export protocol for cherries between Turkey and China has not yet been confirmed for the 2021 season," he adds. "We are expecting to send even bigger volumes of cherries to China this year if the protocol allows it."
Alanar has exported cherries to other countries on the Asian market for years, including Hong Kong, Singapore, Malaysia and India. "We expect to send larger quantities of Alanar's world famous cherries to our business partners in those regions as well," says Gökyiğit.
Turkish exporter Ana Fruit is hopeful that the protocol issue with China will be resolved swiftly. "China is a great market with huge demand," says the company's Kübra Nur Güven, "so it can play a big role in increasing the value of Turkish cherries around the world."
Ana Fruit made its first commercial shipment of cherries to the newly opened Korean market last year, completing three shipments before the season ended. "The fruits were well received and we got good feedback," says Güven. "This season we hope to increase the volume. Unfortunately, Korean inspectors have not been able to fly over here, which is why the protocol is taking a bit longer than it should. Our brands, Laila and Redly, are well represented in Asia, as well as the Middle East and South Africa. We are targeting further growth on the Asian market this season."
Logistical relief
A concern for most cherry exporters this season has of course been the cost of logistics. "Covid-19 has greatly affected logistical costs related to air shipments," explains Gökyiğit. "Since cherries are a highly sensitive fruit, we ship them to our overseas customers by plane, but it's been harder to find the availability than in previous years."
"Before we started the season, we were afraid that airfreight capacity would be down like last year," adds Güven. "However, from what we have seen at the start of the season, there should be no big issues with the air cargo capacity thanks to increased airfreight options."
Keeping cool
Another Turkish company, özler Tarim, has been planting new low-chill cherry varieties in the city of Adana, a place more commonly known for its citrus. "These are the first cherry plantations in the region," says the company's özbek özler, "and in our trial farms we have been harvesting cherries around 26 April, roughly three weeks earlier than Izmir cherries, which are considered the earliest in Turkey."
Germany, Scandinavia and Russia remain the firm's principle markets, but interest in South-East Asia is also growing rapidly, says özler. "This is exciting for us," he explains. "Turkey is a bit late in the game for opening up the main Asian markets, such as China, Japan, Korea and Taiwan. While some have been open for a while, the import protocol agreements have been rather difficult to accommodate and will take some time to adapt or revise. Once everything is settled, these will definitely be key markets for our industry."