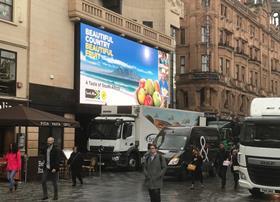 Shipments of South African apples to the UK market have risen by 20 per cent during the 2018 season, says Hortgro, the organisation representing growers in South Africa.
Cumulative volumes of the fruit to the week ending 1 July 2018 showed a total of 4.21m 12.5 carton equivalents were shipped, up from 3.37m at the same point in the previous season. Total South African shipments around the world are down by four per cent.
Pear volumes into the UK, meanwhile, have fallen by 20 per cent, to just over 768,000, compared to 963,000 at this point last year. Overall South African pear shipments are down nine per cent worldwide against last year.
Hortgro is promoting South African topfruit during the season under the Beautiful Country, Beautiful Fruit strapline, following on from the linked campaign for South African stonefruit that ran during the UK winter.
The centrepiece of this year's activity is advertising featuring South African topfruit in prominent outdoor locations around London, online and in magazines including The Telegraph magazine, Sunday Express, Food & Travel and other food publications.
Meanwhile, recipes using South African topfruit are appearing in the press and on social media, which includes a series of short videos.
South African topfruit featured as a main ingredient in Hortgro's South African Young Chef of the Year competition, the final of which took place in London during May.
The initiative encourages young chefs either studying or working in industry to learn about the flavour of South African fruit and the ethical reasons for buying it.
Apples and pears were also promoted as a part of the Help a South African School initiative, which sees schoolchildren around the UK learn about South African fruit farming and donate unused reading and text books to South African children in the process.
Jacques du Preez, general manager trade & markets at Hortgro, said: "This is the tenth consecutive year that South African topfruit and stonefruit growers have promoted their fruit in the UK market. As we reach this milestone, it's more important than ever that we keep what we're doing exciting and appealing, so we are continually reviewing and improving our campaign.
"Over the last decade the focus of the top fruit activity within the Beautiful Country, Beautiful Fruit campaign has shifted to the communication we have with consumers outside of the retail environment,' he added. 'There is intense competition for shelf space in the topfruit category and consumers have a wide choice; we have therefore increased our emphasis on advertising in a variety of media and social communication this year, with the aim of educating and informing their purchasing decisions when they arrive in store."