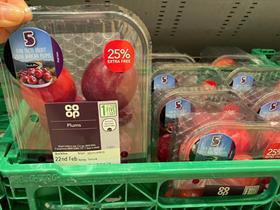 Hortgro, South Africa's deciduous fruit grower organisation, has partnered with UK retailers to drive sales and highlight the USPs and health benefits of the country's stonefruit.
The 2021 marketing campaign, now in its 13th year, is focusing predominantly on targeting shoppers through online activity and some in-store promotions, due to the rise in demand for fresh produce during the Covid-19 pandemic.
According to a report by Public Health England, sales of fresh fruit and vegetables increased by 9 per cent during the first UK lockdown that commenced on 23 March 2020.
One of the main activities of Hortgro's campaign is the ongoing promotion of South African stonefruit on leading UK grocery websites in the form of digital banners.
It is hoped that the heightened online exposure of South Africa's fresh produce will boost sales from January through to the end of the stonefruit season in May 2021.
Other online support for the campaign has seen retailer seasonal promotions on fresh fruit that feature various South African plum, peach and nectarine lines.
These promotions have been supported by printed advertorials in retailer magazines that showcase the health benefits of the fruit and include suggested recipes.
Accompanying in-store activity includes on-pack labels and recipe tear-off talkers, providing families with fun facts about South African plums. These aim to position the stonefruit as a fun, healthy snack for parents and kids.
Branded shrouds will also be placed in stores nationwide to give prominence to mainstream South African plum lines.
"Europe is still the biggest destination for all SA stonefruit (41 per cent), followed by the United Kingdom (28 per cent),' said Andre Smit, chairman of Hortgro Stone. 'Strict export protocols remain a challenge and in the mist of Covid-19 even more so.
'Hygiene and sanitation have now become household terms and growers will have to ensure that they comply with all rules and regulations,' he added. 'Luckily, South African farmers are very resilient and as an industry, I know we can continue to deliver the excellent high-quality fruit that South Africa is renowned for."
It is currently estimated that by the end of the 2020/21 season, the stonefruit industry will have seen a 16 per cent increase in South African nectarine exports, a 12 per cent increase for peaches, and a 40 per cent increase for South African plums, compared with last year.
The increased volumes are mainly driven by young orchards coming into production and more favourable weather conditions.
Whilst promotional work with retailers has been one of the main focuses of this year's campaign, this season has also seen strong support from food writers and recipe developers on social media, as well as coverage in general consumer media publications.