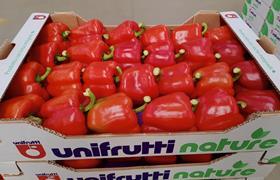 Unifrutti Group has acquired Spanish vegetable producer Dimifruit, a leading supplier of tomatoes, aubergines, peppers and courgettes.
Explaining the move, Unifrutti said it wanted to secure priority access to reliable sources of sustainable production, a response to growing demand for healthy, natural products grown in an environmentally friendly manner.
The news follows last October's purchase of Sicilian company Oranfrizer, a takeover that strengthened its position in the international citrus business.
"Unifrutti is establishing itself as a producer of vegetables and to do so, crops of excellence are preferred, as those most closely resemble what Unifrutti is all about, and also to enhance its international and innovative vision," explained Gianluca Defendini, chief executive of Unifrutti's Italy division.
"Following the group's global strategy," he added, "we in Europe believe in production companies that are well-established in their territory of origin, and which are fully-developed thanks to their commitment in the fields and markets, which practice advanced farming methods with an increasingly low environmental impact. We are creating an offering that is valuable, diverse and responsible.'
Almería-based Dimifruit produces tomatoes, aubergines, peppers and courgettes in greenhouses during most of the winter – starting in September and finishing in April.
It employs around 400 workers during that period, enabling it to ship products within 12 hours of being harvested. Last season, it sold more than 500,000 tonnes of those products.
The company's founder and chief executive Dimitri Calabrese, who is now Unifrutti's sales manager in Italy, said a complete switch to integrated pest management systems over the past decade had given it a clear commercial advantage by reducing the impact of chemical usage to the lowest level possible.
"Dimifruit vegetables are already widely known by large-scale European and Italian retailers for their quality and low environmental impact,' he commented.